Always have the right sandpaper on hand with this sander and sandpaper storage rack! Each sander has its own sandpaper shelves ready for that next project.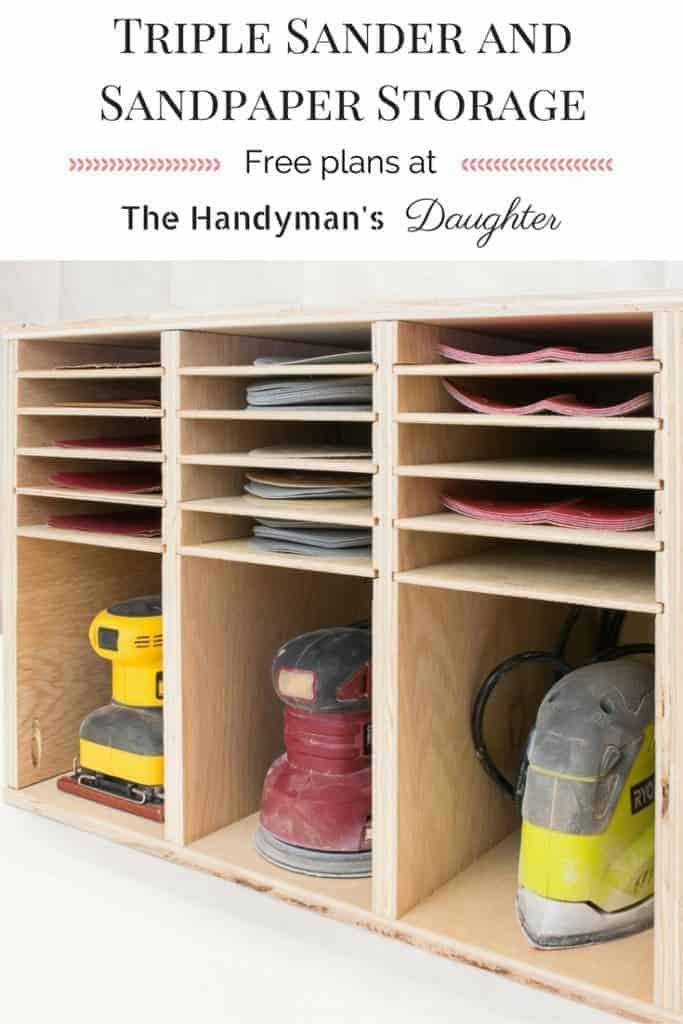 Welcome back to another Workshop Wednesday! If you're just joining me, you can see all the other posts in the series here. This week, I'm wrangling my growing collection of sanding supplies into one compact unit. This sander and sandpaper storage has enough shelf space for three sanders and five sandpaper grits each! Now I'll always have the sandpaper I need on hand and ready for my next project!
This post contains affiliate links for your convenience. Purchases made through these links may earn me a small commission, which helps keep this site up and running!
I'm trying to make my small workshop as organized as possible, and optimize every inch of space. My workbench does double duty as an outfeed table for my table saw, but the shelf below is turning into a dumping ground for tools!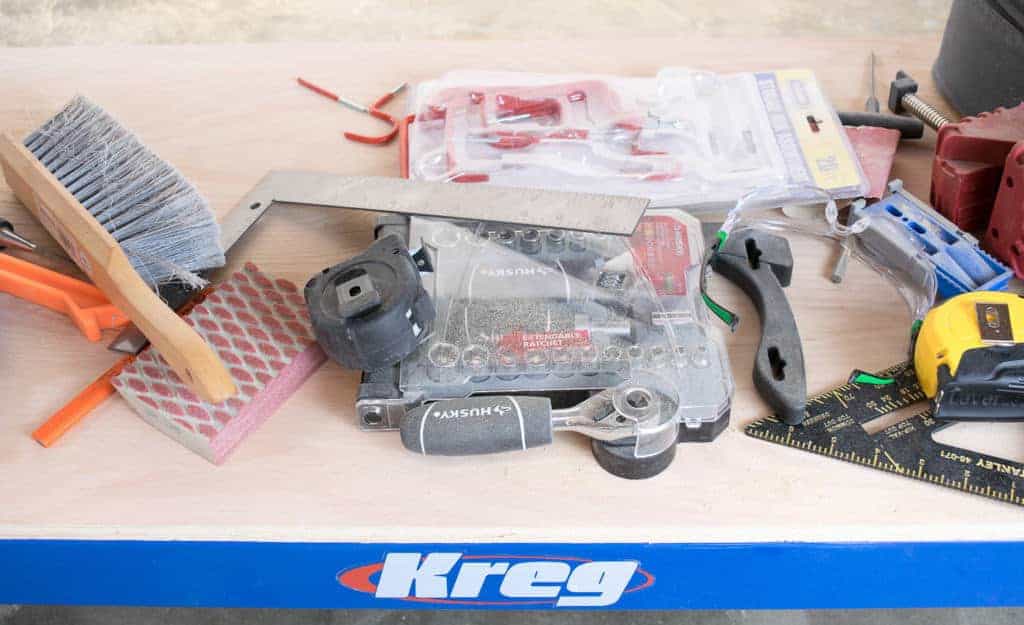 And the shelf behind my miter saw stand is a mess of power cords from my various sanders. I tend to grab the least tangled one rather than the right one for the job!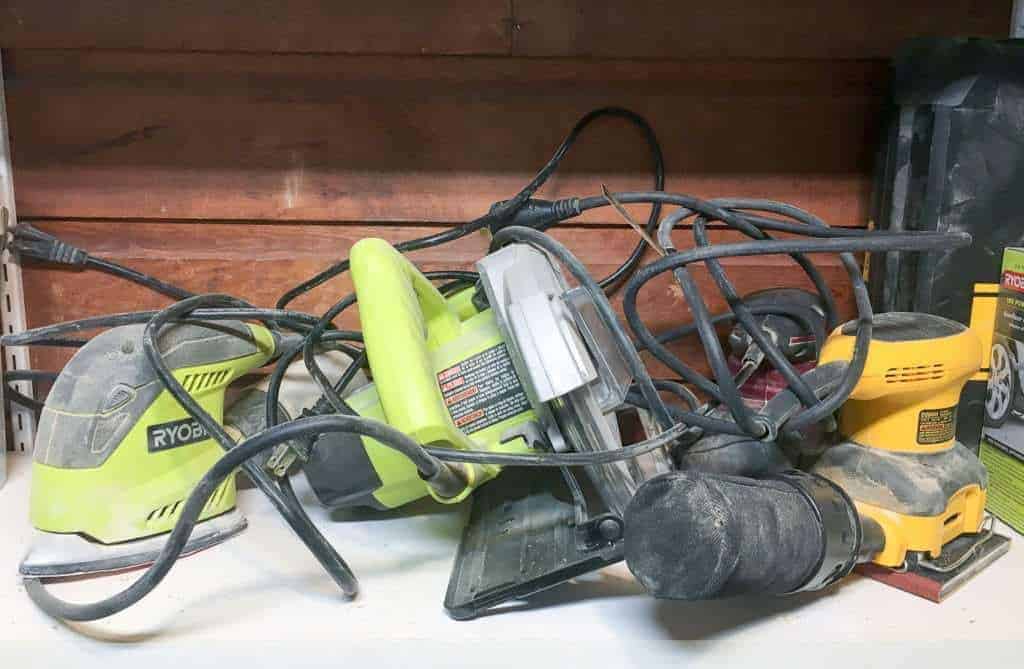 By moving the sander storage to the shelf under my workbench, I'll clean up the clutter and put that space to better use. As a bonus, I'll also be using up some of the smaller cuts of plywood I have in my scrap wood pile!
Materials for Sander and Sandpaper Storage
1 sheet of 3/4″ plywood
1/2 sheet of 1/4″ plywood
Kreg Jig

Check out my post on how to use a Kreg Jig to help you decide which one is right for you.

1 1/4″ pocket hole screws
1 1/4″ nails
Table saw
Don't forget your safety gear when woodworking! Here are my recommendations for safety glasses and ear protection. No excuses!

Click here to get the free woodworking plans!
Instructions for Building Sander and Sandpaper Storage
Cut your 3/4″ plywood as follows:
2 @ 21 3/4″ x 13″ (for top and bottom)
4 @ 13 3/4″ x 13″ (for vertical supports)
Cut your 1/4″ plywood as follows:
1 @ 21 3/4″ x 15 1/4″ (for back)
15 @ 6 5/8″ x 13″ (for shelves)
I don't have a dado blade for my table saw (yet!), so I created the dados for the shelves by making two passes with my regular table saw blade.
Set the blade to 1/4″ high, then set the fence to 12 3/4″. Run each vertical support through, then flip two of them over and repeat on the other side.
Now move the fence 1/8″ closer to the blade and run all the pieces through again. This should create a groove about 1/4″ wide and 1/4″ deep. Test to make sure the 1/4″ plywood fits snugly. It doesn't have to be perfect, but it needs to be wide enough to fit the shelf.
Repeat the process until you have five grooves spaced 1″ apart.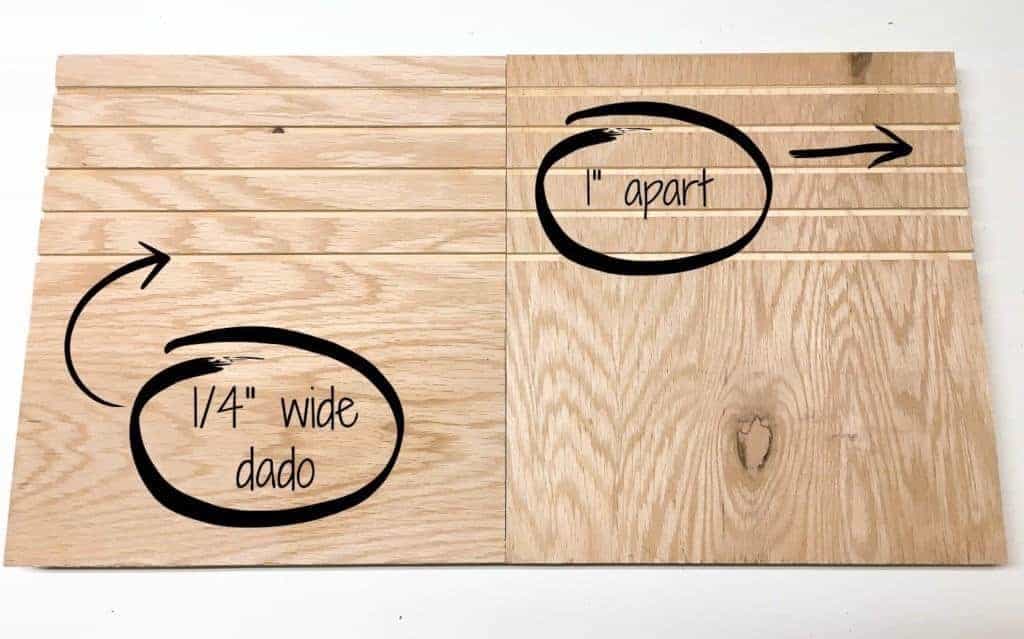 Click here to get the free woodworking plans!
At the bottom, drill three pocket holes in each vertical support on the same side as the grooves.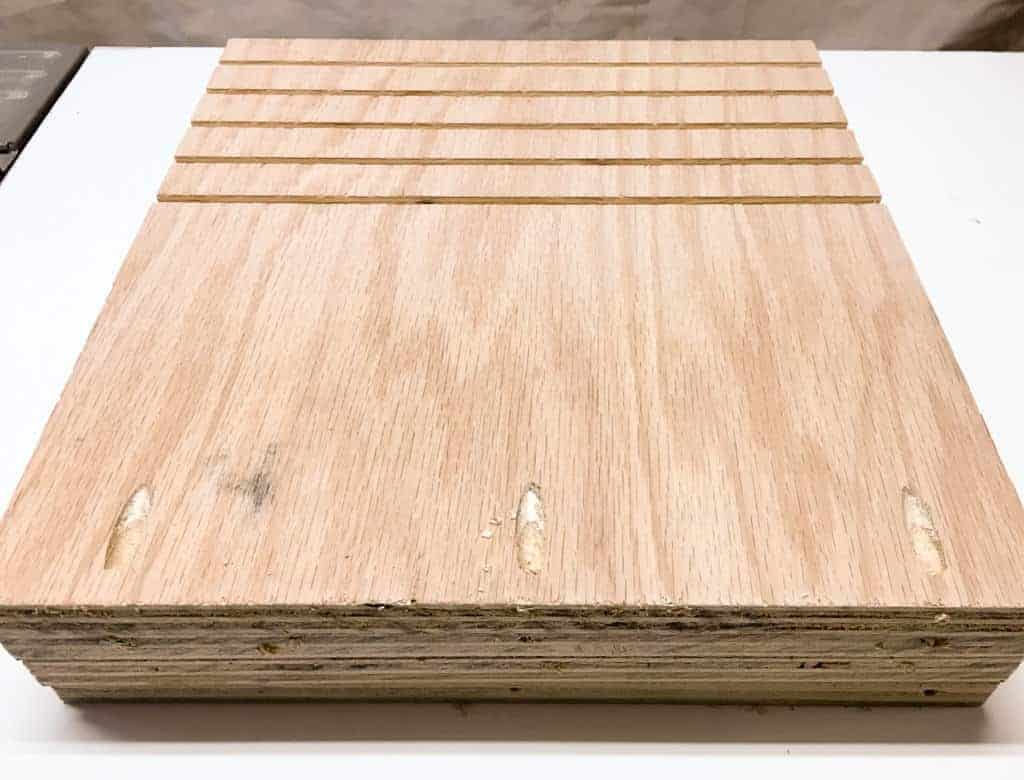 Then attach each vertical support to the bottom piece with 1 1/4″ pocket hole screws. They should be spaced 6 1/4″ apart. The supports with dados cut into both sides go in the middle, with the single sided ones on the outside.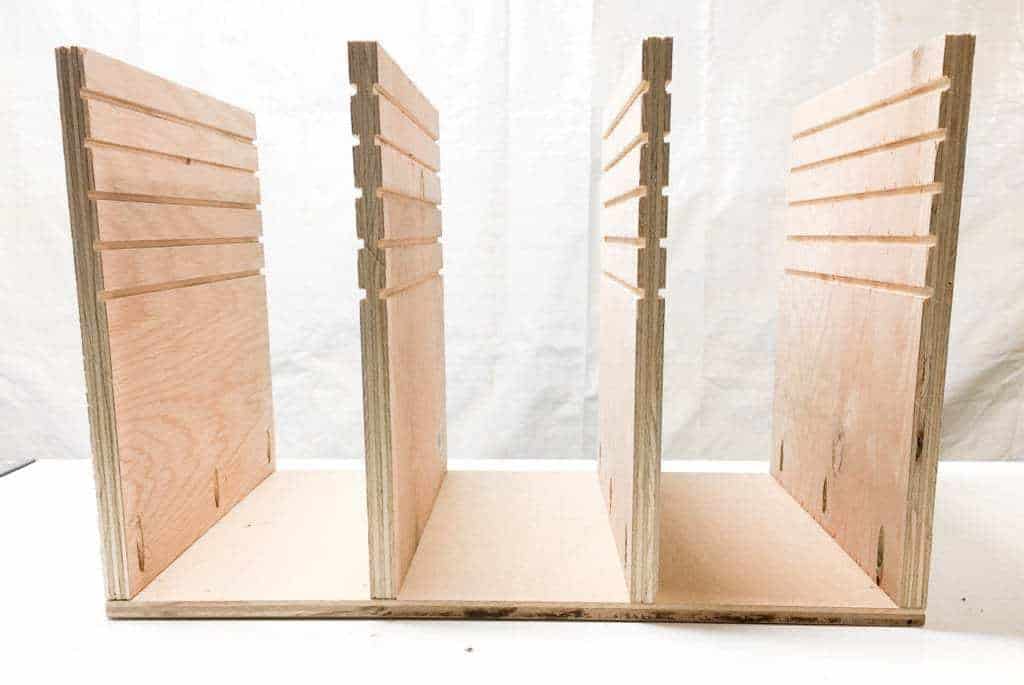 Nail the top of the box to the top of the vertical supports. I used my Ryobi Airstrike brad nailer for this step. It helps to line a square up with the edge of the support so you know where to put the nail.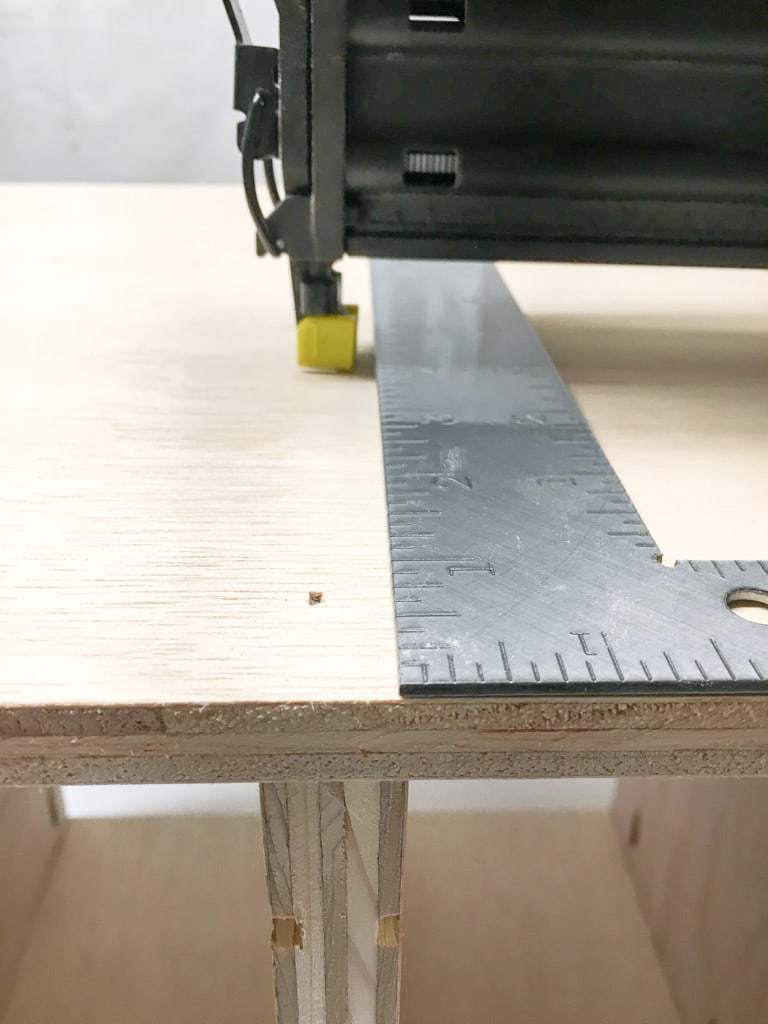 Click here to get the free woodworking plans!
Flip the box face down, and attach the 1/4″ plywood back with nails. I didn't have a piece of scrap plywood big enough to cover the back, so I pieced two together. There's no need to make it look pretty in the workshop!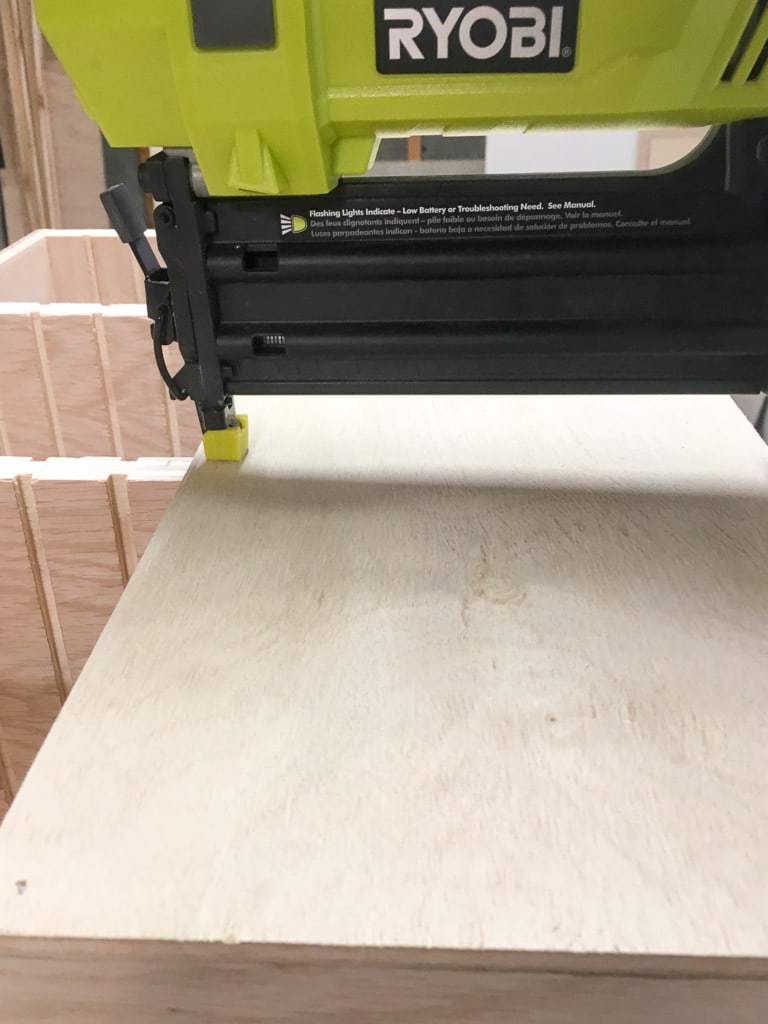 Now, slide each of the 1/4″ plywood shelves into place. If you're having trouble getting it to fit, sand the top and bottom of the edges until it moves freely.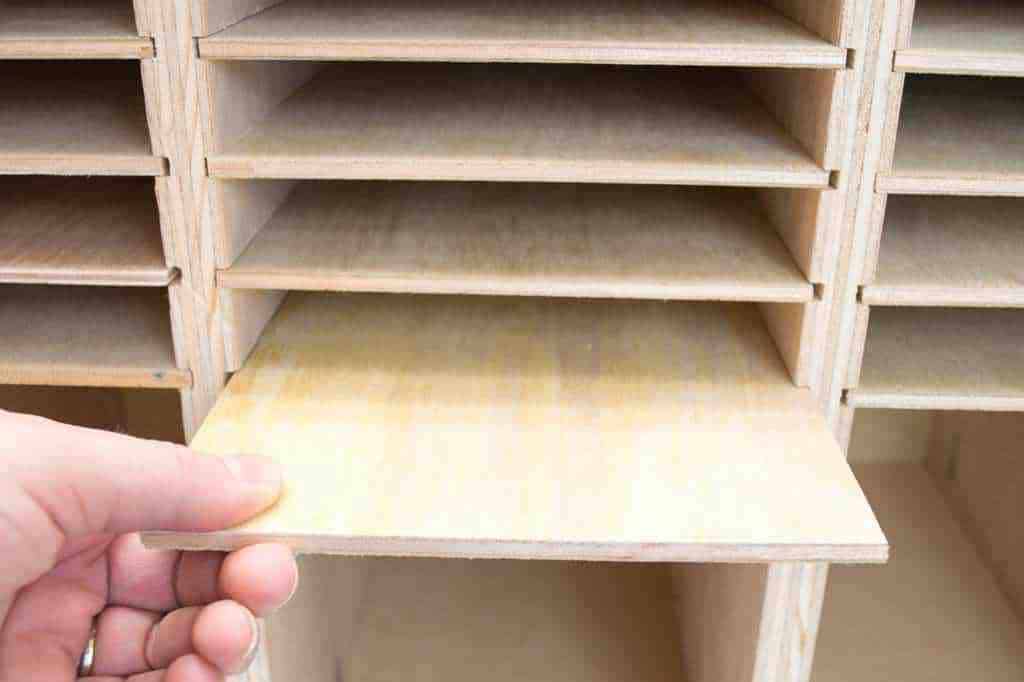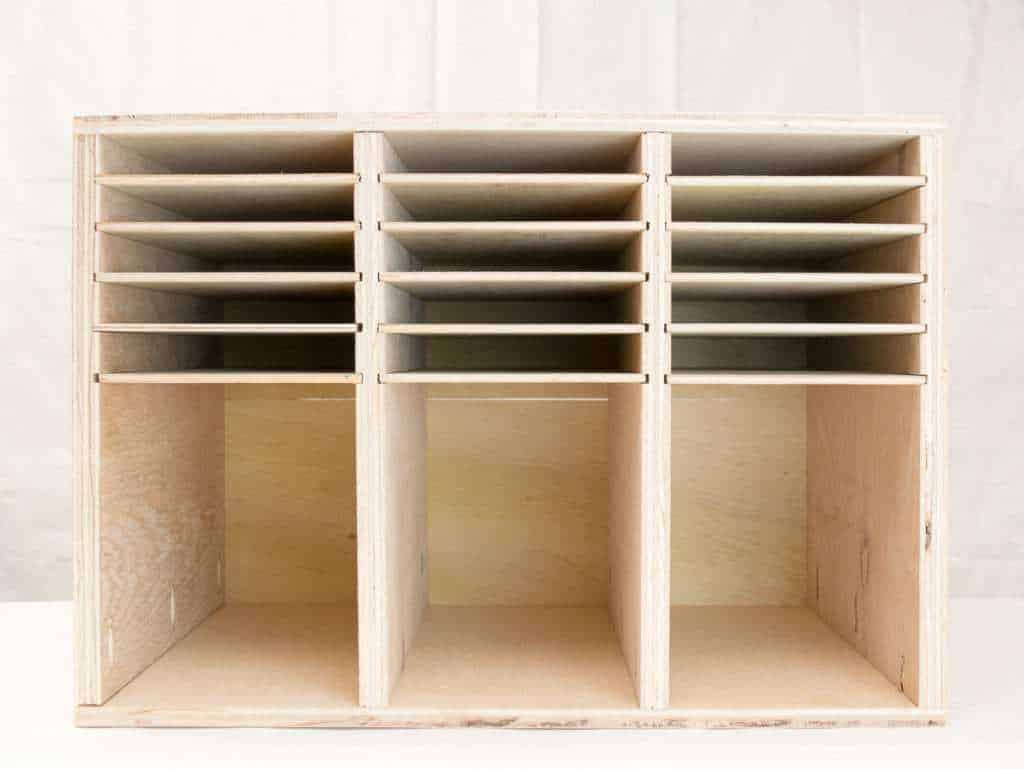 Time to load it up! My 1/4 sheet sander, random orbit sander, and corner cat sander each have their own home. The sandpaper storage above is organized by grit, with the numbers written on the end of the shelf. Now I can see when I'm running low on a particular kind, and replenish my supply on one of my many trips to the home improvement store!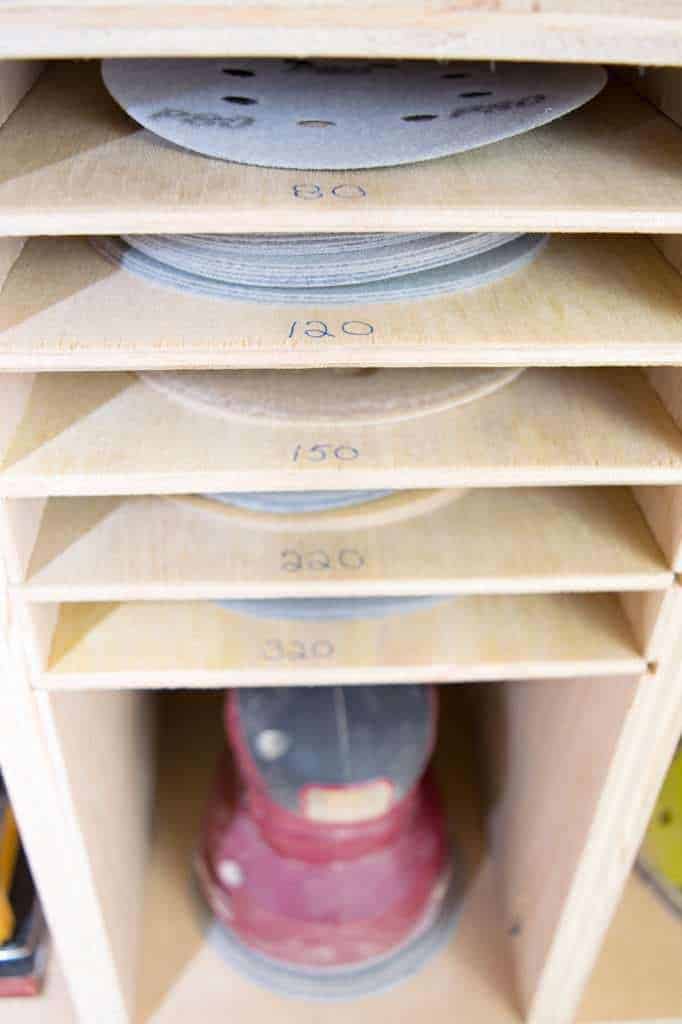 I customized the size of my sander and sandpaper storage to fit perfectly on the bottom shelf of my Kreg workbench. Now I have less room for clutter, so hopefully I'll start putting things away rather than dump them here!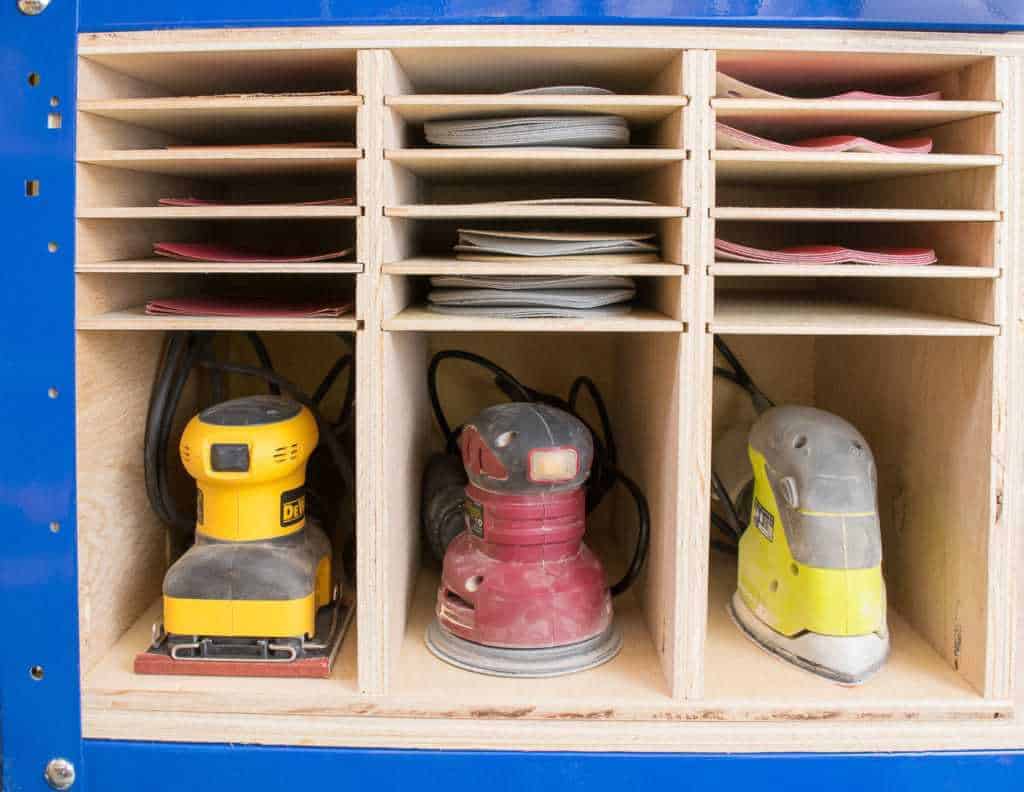 Click here to get the free woodworking plans!
I hope this sander and sandpaper storage unit will help you get your workshop organized. Stay tuned for more workshop ideas and tips every other Wednesday! And don't forget to check out my archive of previous Workshop Wednesday posts.
If you would like to keep up to date with my latest posts about DIY projects, woodworking and more, you can follow me on Facebook, Pinterest, or Instagram. You can also sign up for my email list below and get the latest post delivered to your inbox, plus exclusive access to my woodworking plans library!
Want more DIY projects?
Subscribe to get project ideas, home improvement tips, woodworking plans and more delivered straight to your inbox!