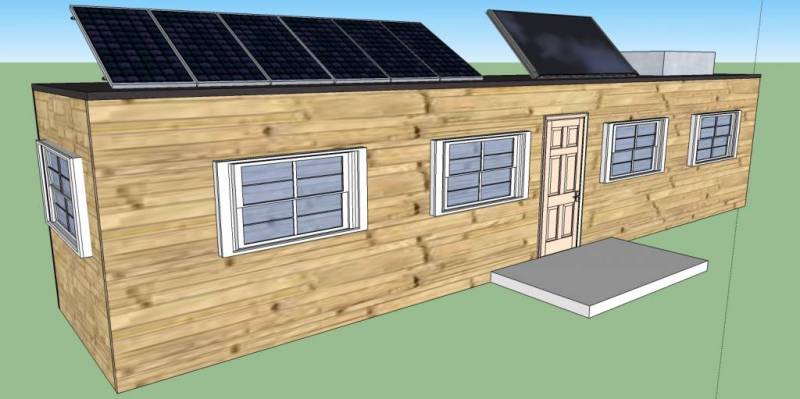 Imagine a completely self sufficient cabin, pre-built with everything you need to go off grid including water, power, food, and shelter.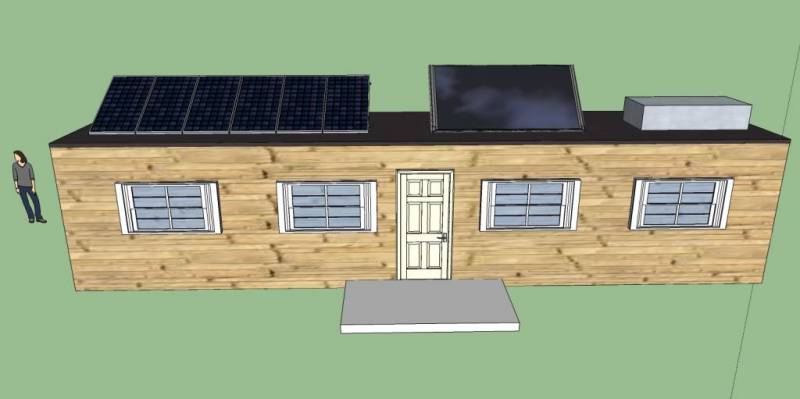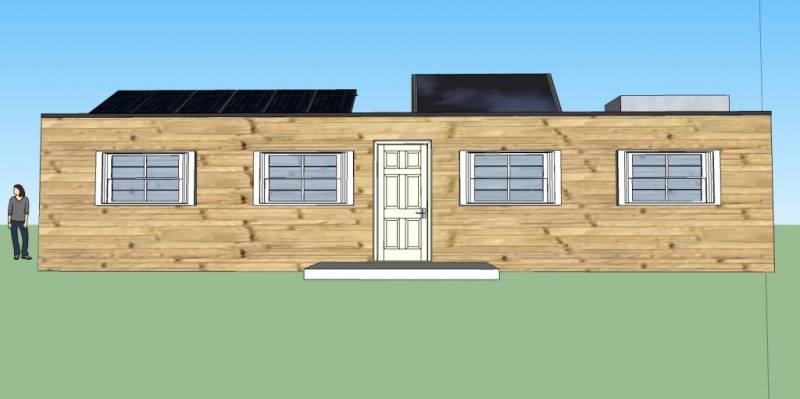 This is my Complete Off Grid Cabin Design – It's 100% self sufficient, meaning you can place it anywhere and it's ready to go out of the box. Complete with water, power, heat, septic, and food. Everything you need to live for a year or more. The total living space is about 320 square feet, it's equipped with a 1500 Watt solar panel array, or (upgradable 3000 Watt system for another $5000). An atmospheric water generation system to provide water. Propane stove and solar water heater. All fixtures, cabinets, furniture, sinks, shower and toilet facilities are included. It's also portable. NICE huh?
————————————-
A ready to go "Off The Grid" cabin made from a shipping container that includes everything one needs to go off the grid in ONE package ready to ship anywhere in the world for both off grid living and disaster relief.
In addition, these cabins could be purchased by those with low income as a starter home. Perhaps, there could even be a program whereby we help people own their own home. There are government credits, bonuses, and grants that could be applied for to help in the funding.
The whole deal would be complete with everything you need except a piece of land to put it on. The container cabin could be "dropped" onto a foundation pad, or pillars much like a mobile home. The system would be completely self contained and 100% self sufficient.
The Off The Grid Cabin would include:
Shelter: 320 square foot Living Space (40′ Shipping Container) Including a kitchen, bathroom, shower, stove, washer/dryer, couch bed,
Water Source: Atmospheric water generator.
Power: (Electricity provided by Solar and Wind combo system) The cabin would be wired for both AC and DC so you could run straight off the solar and wind, and or the battery system.
Plumbing & Septic: Mounted under the home just like an RV
Heating & Cooling: Propane stove, diesel, and/or low voltage DC heater. (small space is easier to heat) OR a passive solar collector which would heat both the water and the cabin. Radiant heating throughout the entire container.
Food:The container cabin come with the materials to build a small hydropnic greenhouse capable of producing enough food for a family of 4.

Optional: 1 Years supply of MRE survival food.

Lighting: – LED (Light Emitting Diodes) and CFL (Compact Flourescent Lamps). One is AC one is DC.
UPDATE:  With the addition of some seeds, and a small portable hydroponic greenhouse and gardening system, one could essentially place this cabin just about anywhere in the world, and live sustainably indefinitely.
The beauty of a Ready-To-Go Off Grid system like this is:
First and foremost it's 100% self sufficient. With minor modifications it could be placed almost anywhere in the world and provides shelter, water, electricity, and sanitation all in one easy to install kit. It would come with everything you need to survive and thrive almost anywhere.
Second, it's portable and can be moved with very little work and quite inexpensively compared to moving a larger house.
Third, it's expandable and upgradable. With the addition of another shipping container the square footage is doubled. Each container added creates another 320 square foot of floor space. Considering 40′ shipping containers sell at retail for about $2500-$3000 each, it doesn't take much money to double triple and even quadruple your living space.
I personally think a shipping container cabin, rigged and equipped with all the bells and whistles to go off the grid would be and is completely feasible. Having everything in one unit simplifies everything and if done right could be marketed and sold as complete systems, ready to go for those looking for a quick way to get into the off grid lifestyle.
The cost on something like this won't be cheap. The equipment, tools, and labor might be pricey, but that is really not a deterrent considering the cost savings comparison to a traditional off the grid home.
I'd like to do this. Form a plan of action, build a prototype, and then a business plan after I know exactly how much something like this costs and how much work is involved. Going off the grid is my dream, and building the first one of these cabins to prove the concept will be a BIG task and project unto itself.
Volunteers & Sponsors
First and foremost is to list and design all the components needed, and create a pricelist for all materials, labor and permits if needed. I'm in the process of forming a company now that will act as the legal entity that will design and build the cabin. Building the first cabin will take time and planning and capital.
If you're interested in helping with this project contact me via email and I'll get with you on how you can help.