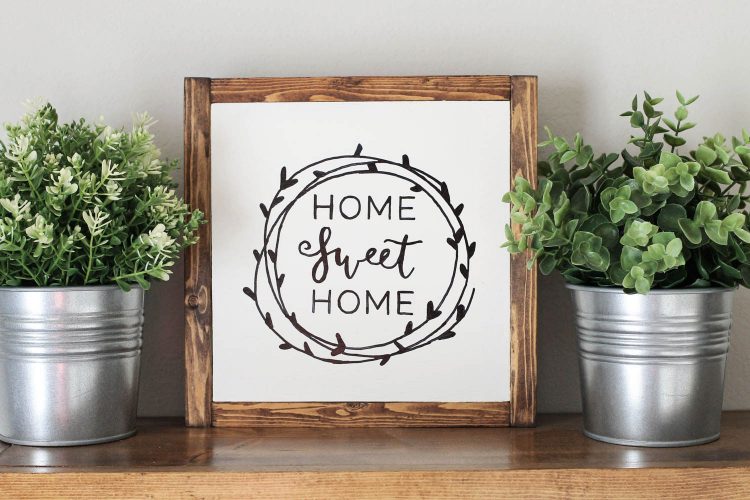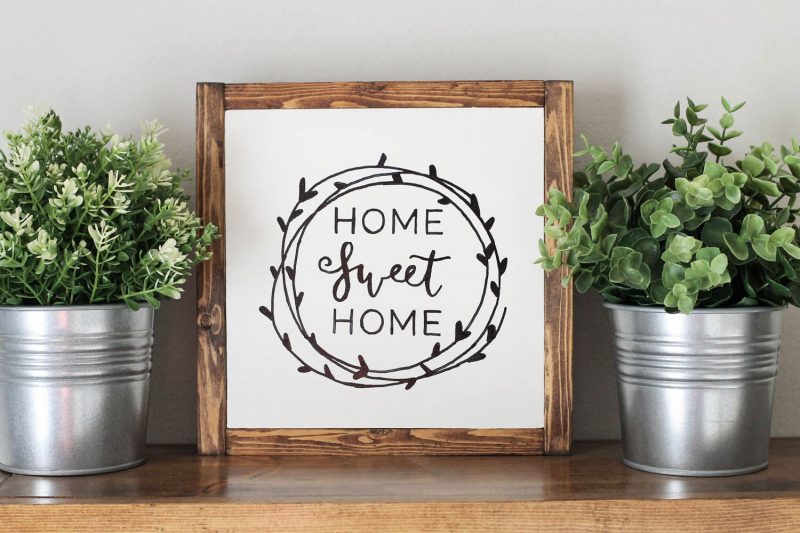 I've been meaning to post this tutorial for transferring a design onto wood for a long time! Before I ever learned how to use vinyl for transferring my designs onto wood (which I used to make this DIY wood sign with a calligraphy quote), I used a super easy pencil tracing method all the time.  Here is one of my favorite signs from my wedding, our honey favors sign, where I used this easy pencil tracing method: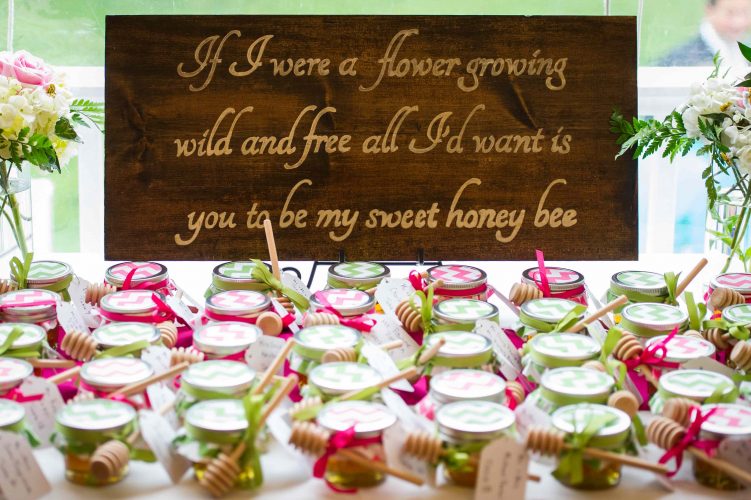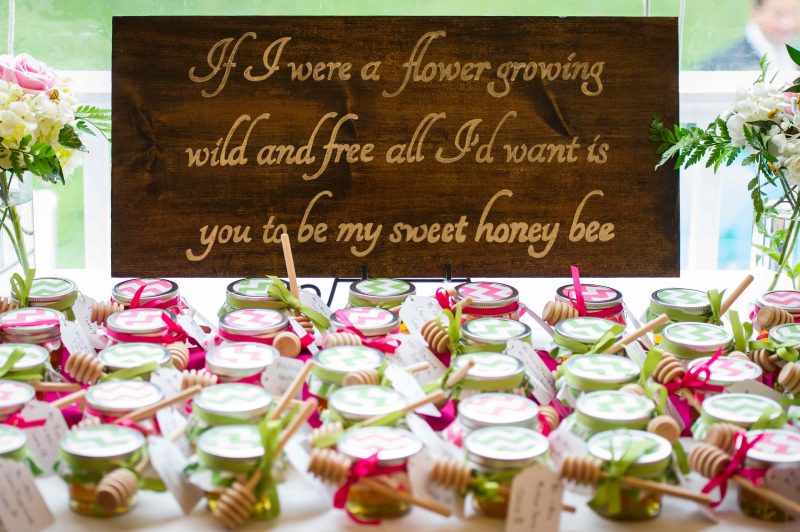 For this tutorial, I decided I wanted to make a mini, wood framed sign that will eventually be part of a gallery wall I am planning.
Note, this post contains some affiliate links. For more information see my disclosures here.
How to easily transfer a design onto wood – pencil tracing method:
Supplies Needed:
Blank wood sign or piece of wood – I built a 9″x9″ wood sign (using this DIY Sign tutorial with different size cuts), but you can buy similar pre-made, blank wood signs here and here.
Pencil
Printed Design
Paint Marker or Permanent Marker (Make sure to use a fine point tip if your design is small like mine or medium tip if you have a larger design)
Masking tape
*For more details on DIY wood sign making, check out my post on how to paint wood signs and how to frame wood signs.
1. Print out your design at the appropriate size needed for your wood. Then, cut the excess white paper off around your design. I used this 8″ x 10″ Home Sweet Home printable which is available in the shop and it was a perfect fit after I cut off the excess white paper!
P.S. Sorry for the dark photos, I did this project at night!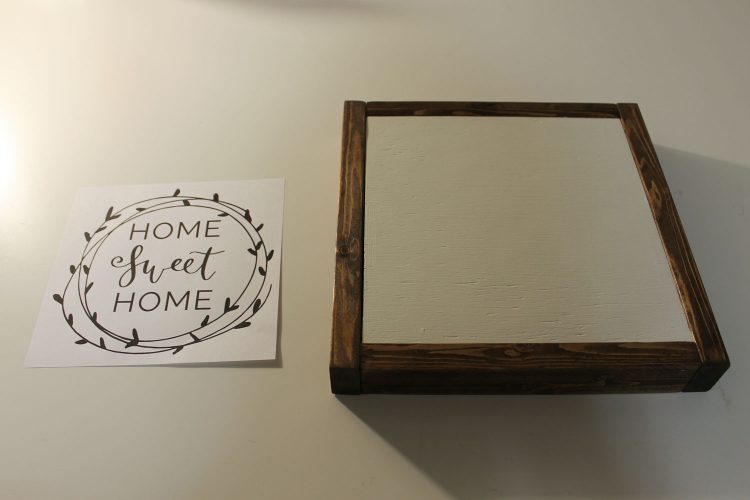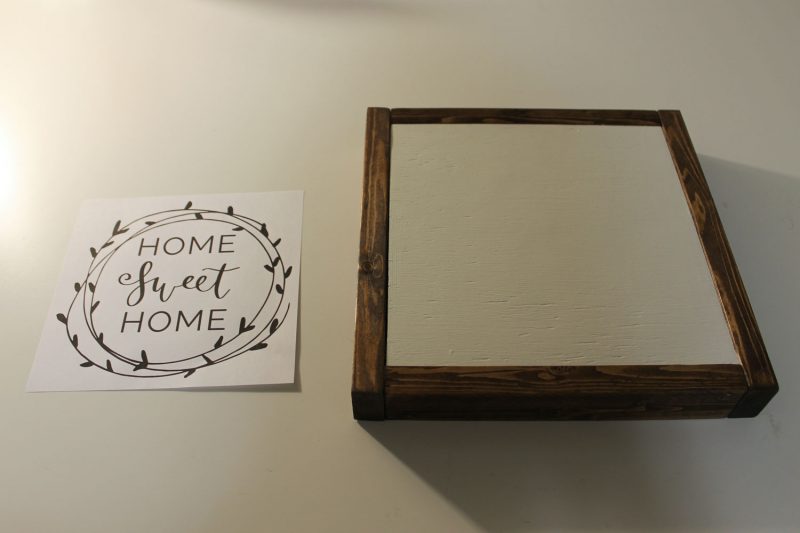 2. Turn your paper over so the printed out design is facing down. Then, use a regular pencil and heavily shade over the outline of the design showing through the back. Note, if your ink is fresh like mine was, put a scrap piece of paper underneath so no ink transfers onto your work surface. Also, you can use chalk on the back instead of a pencil if your wood surface is really dark.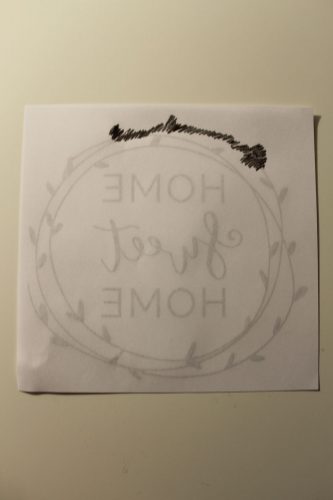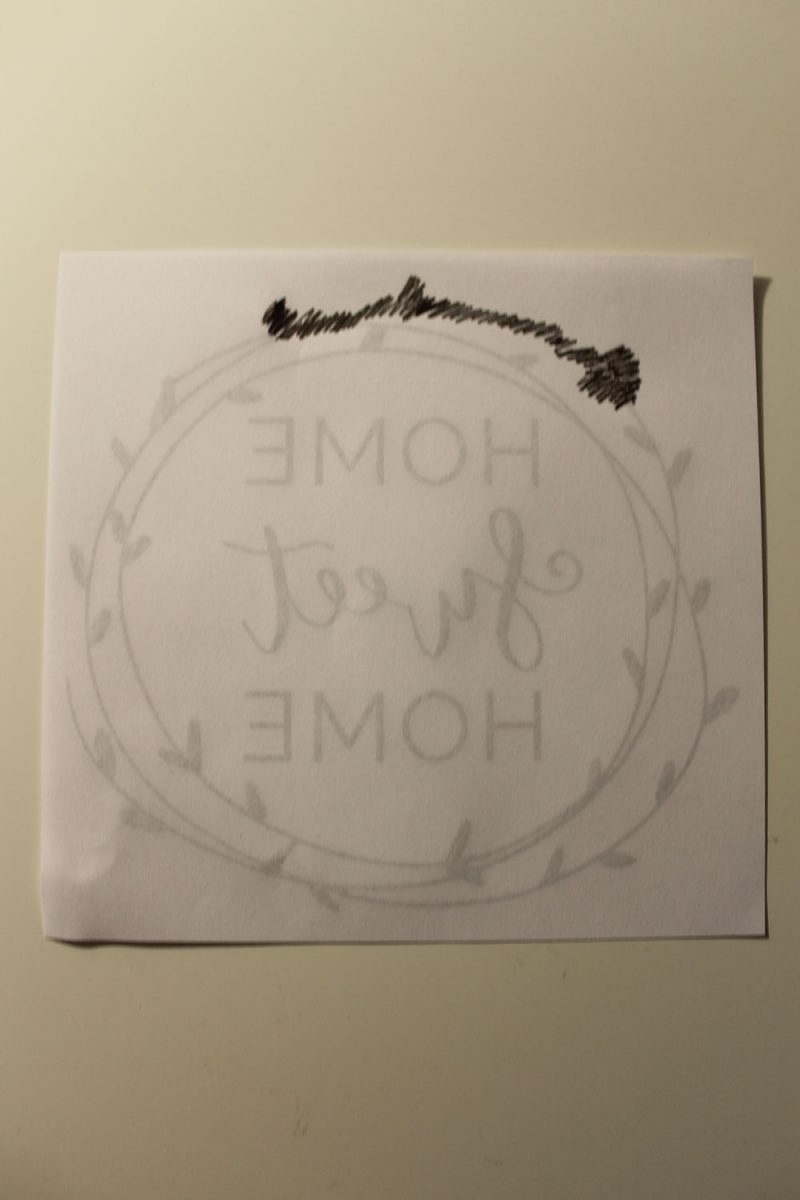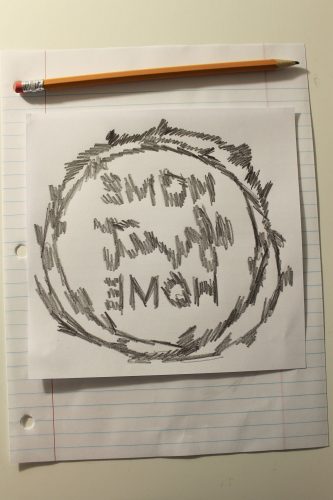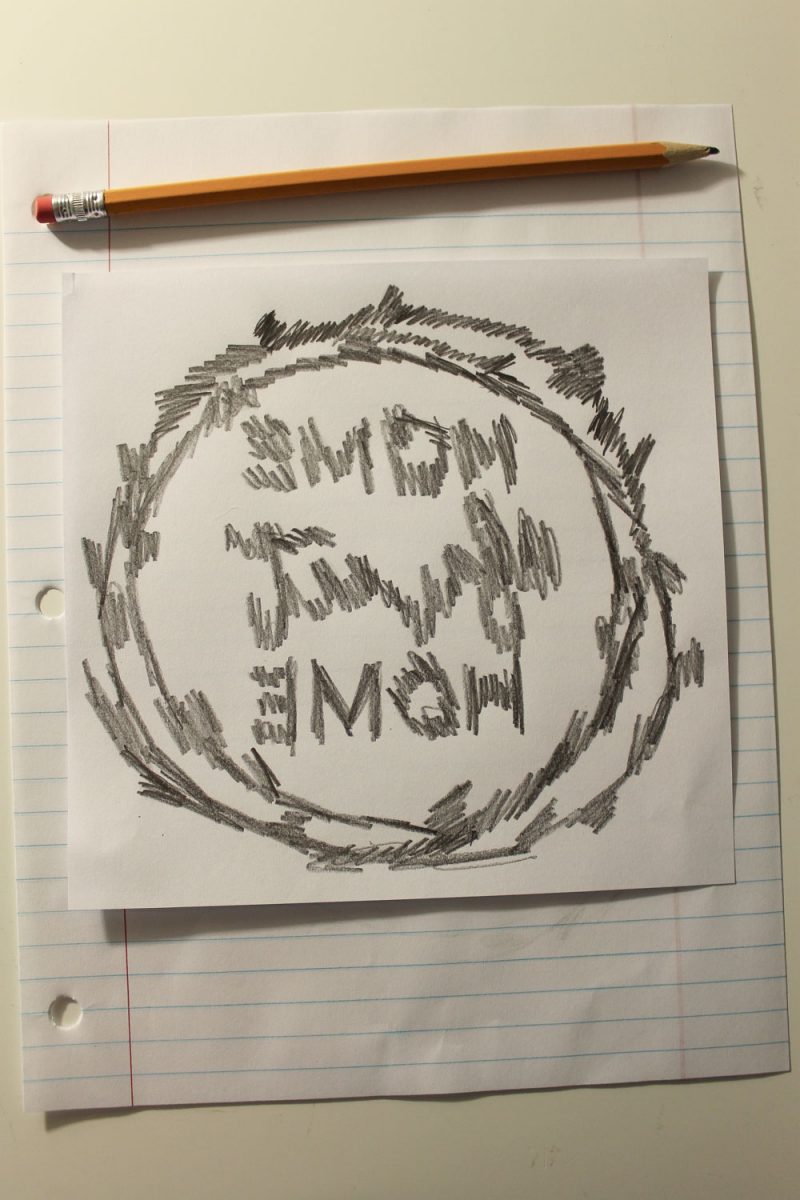 3.  Flip your design back over and secure it into place on top of your wood using masking tape. Then, start tracing over the design with your pencil, heavily pressing down the pencil as you trace.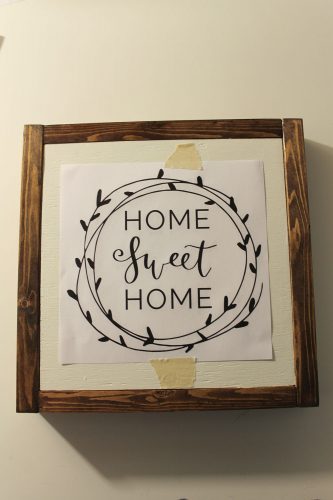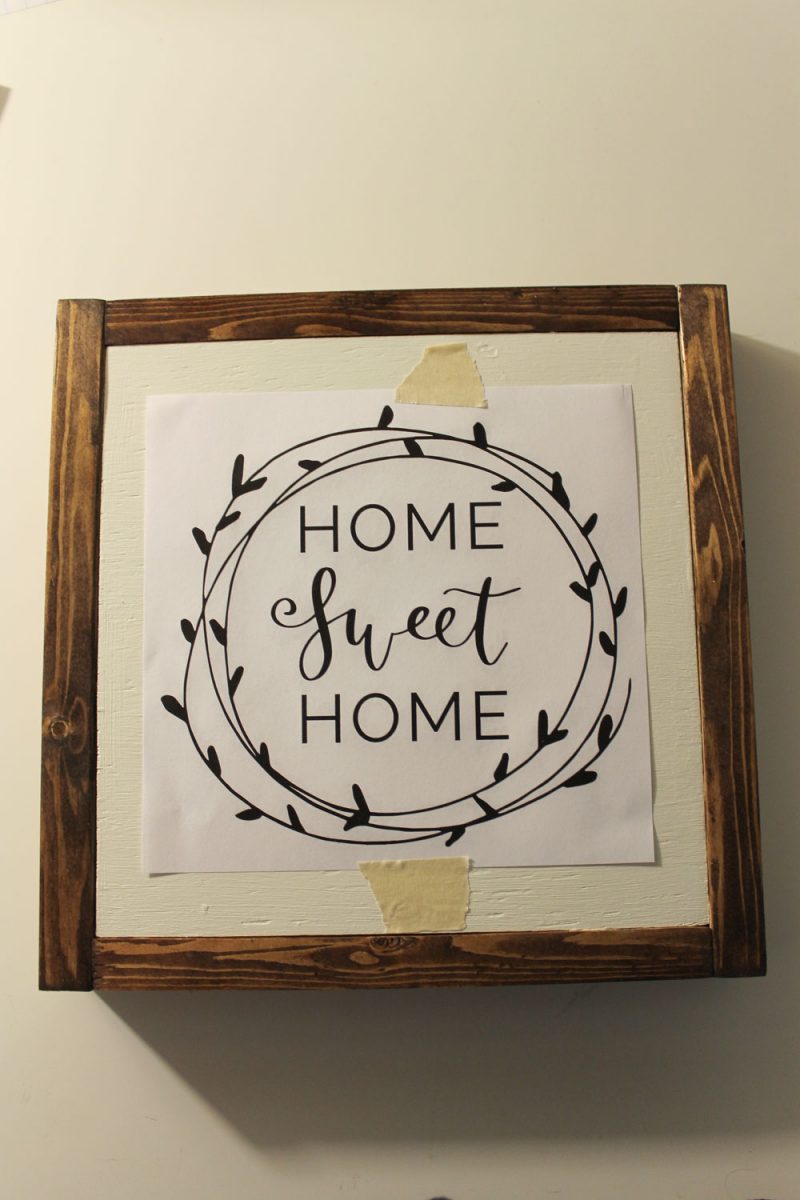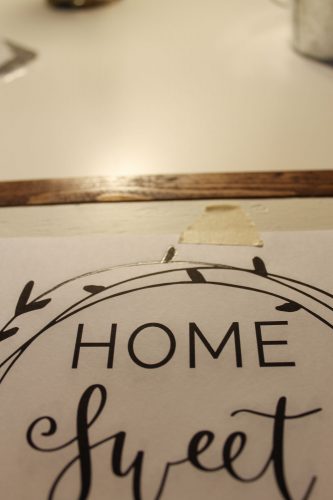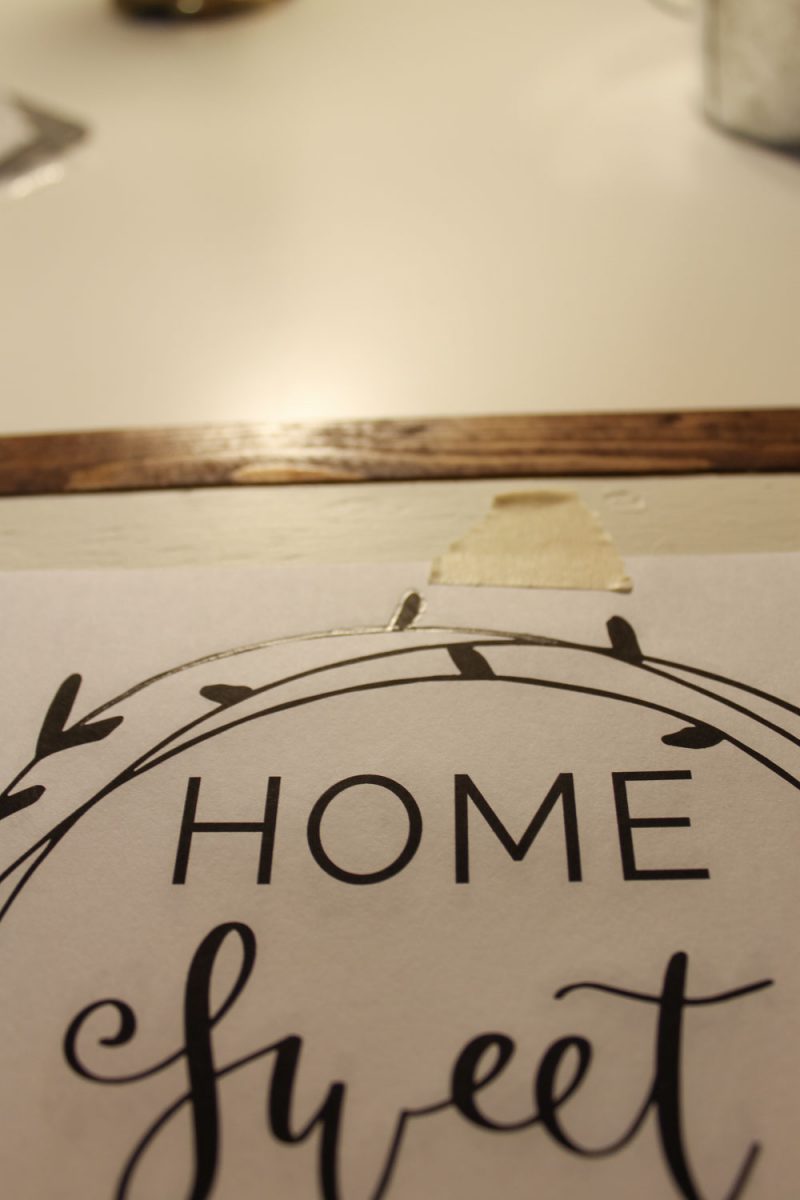 4. Now the magic part! Remove your paper and the outline of your design has been transferred onto your wood!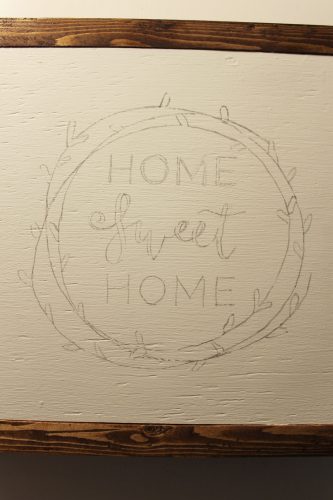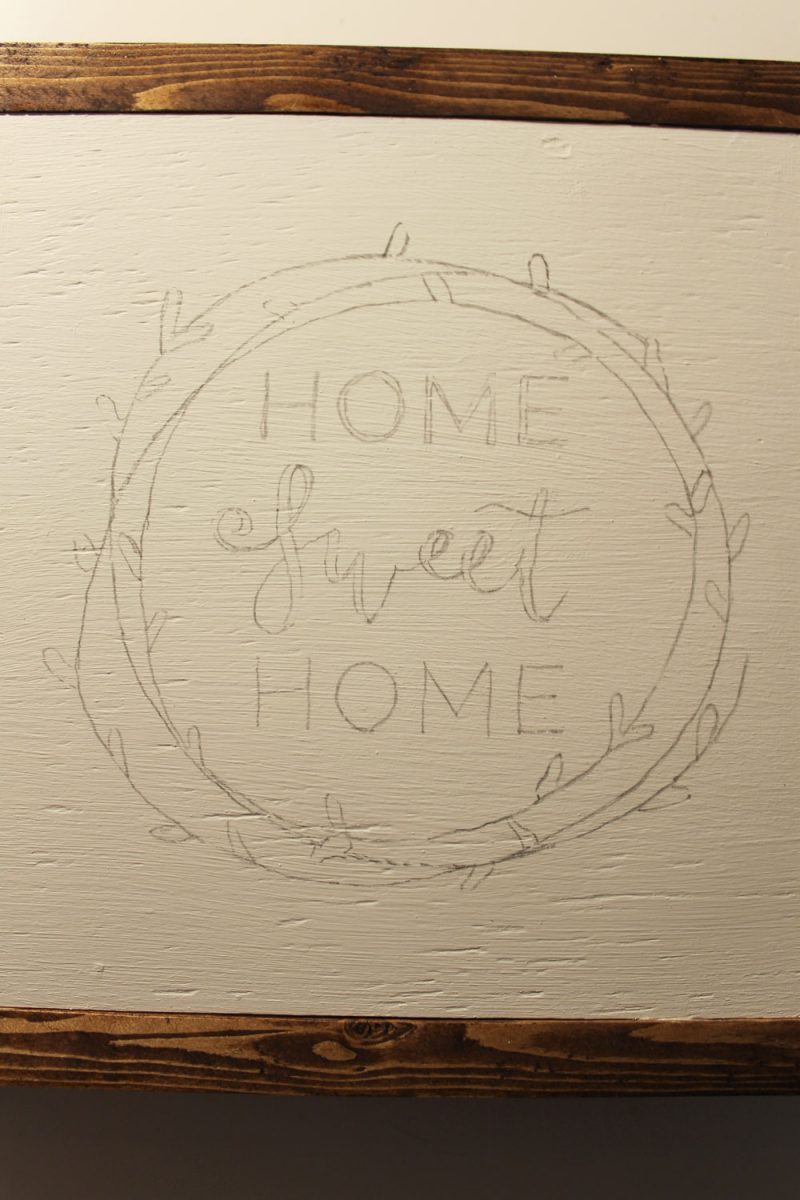 5. Complete the transfer by tracing over the pencil outline with a paint marker, permanent marker, or even a paint brush and paint (although a paint brush may be harder to trace).  I used a black Sharpie fine point marker. If your design is small like mine, make sure to use a fine tip marker, but if it's a larger design, a medium or large tip marker would work better.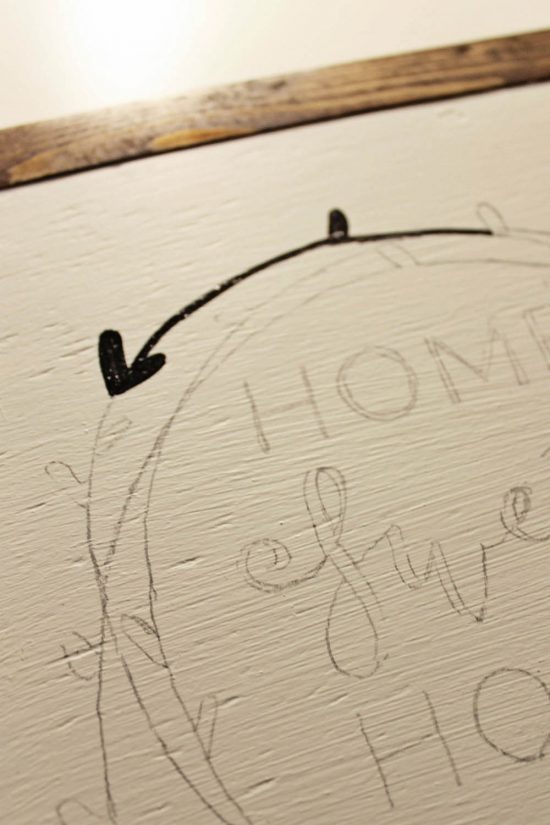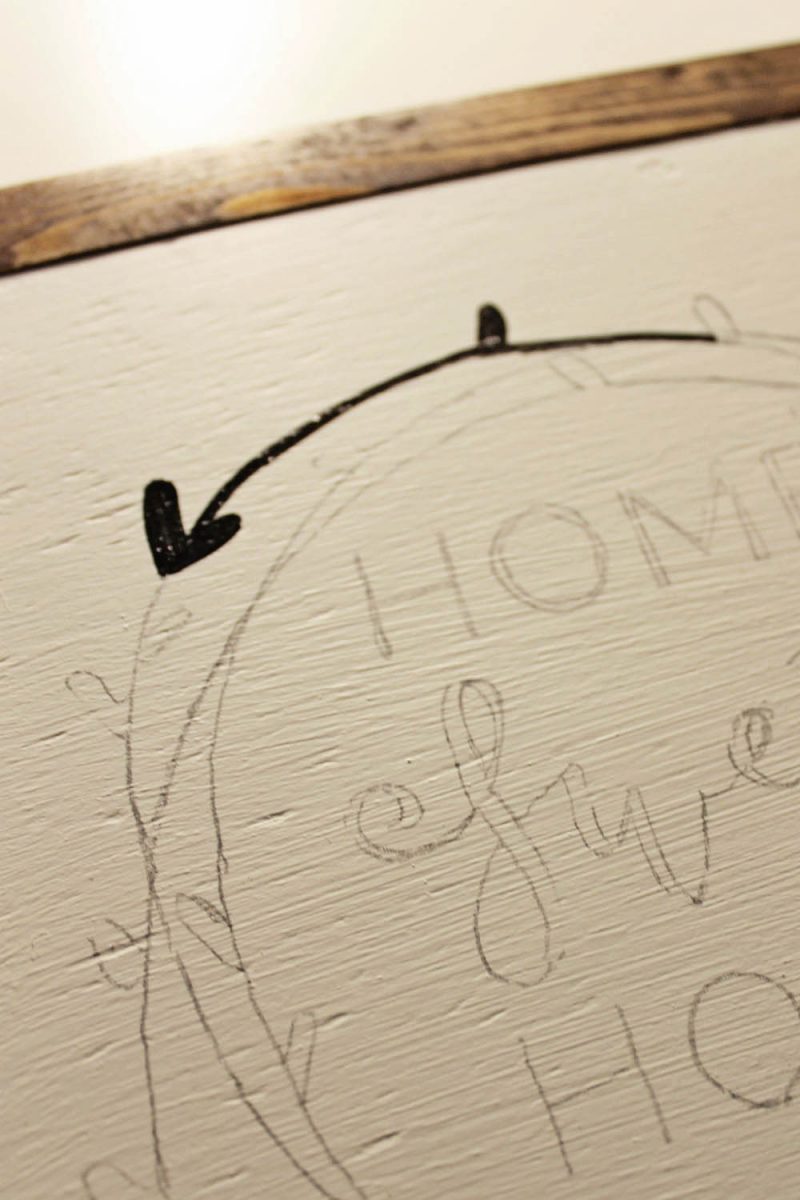 And that's it! A very simple and easy way to transfer a design onto wood! Here is the final result: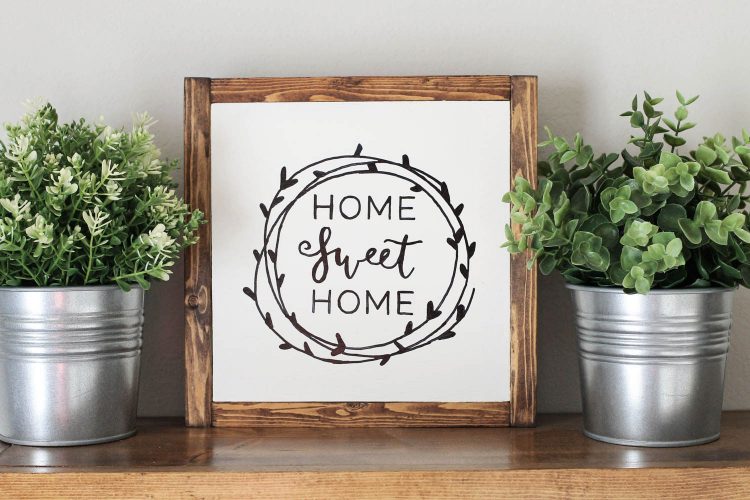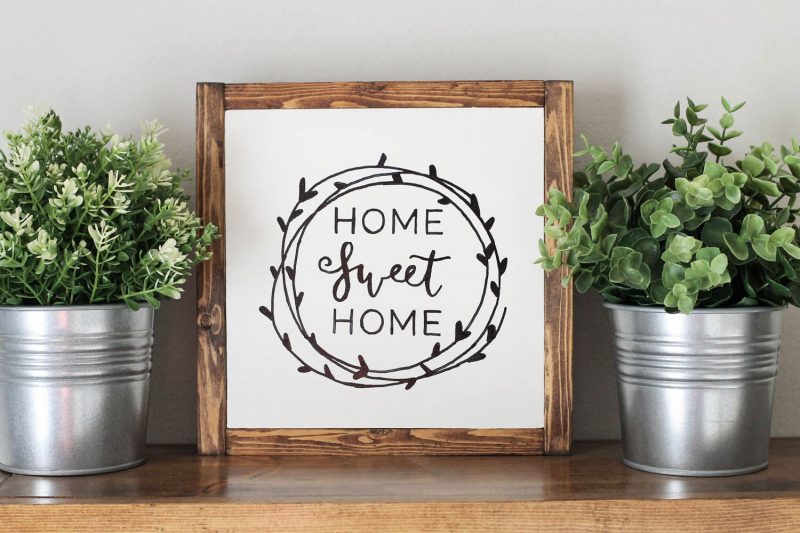 Do you have any good, easy tracing methods you like to use?! Feel free to share in the comments! Follow along on Instagram,  Facebook and Pinterest for my latest projects, fun updates, and sneak peeks!


Want to save this tutorial for later? Pin it here: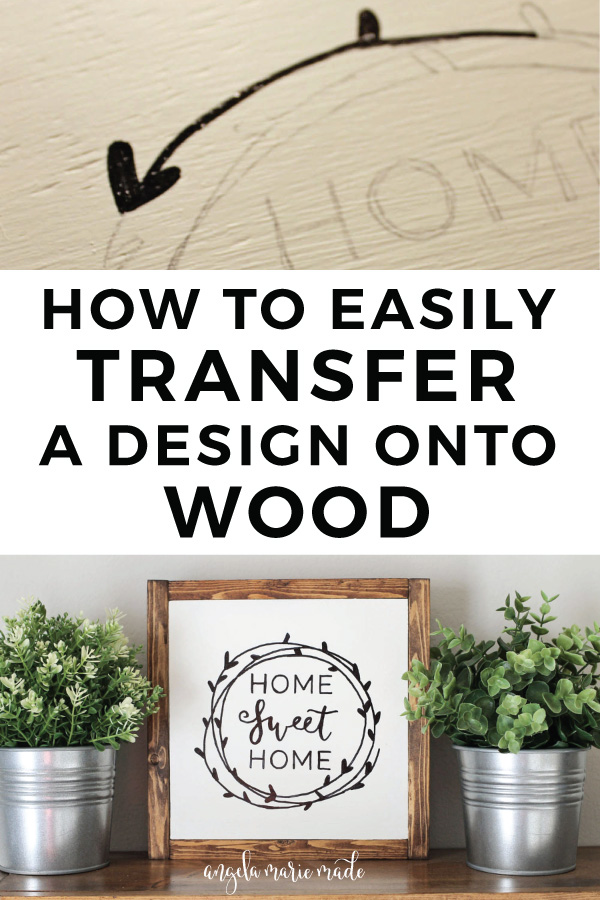 More From the DIY Wood Sign Series:
DIY Wood Sign with Calligraphy Quote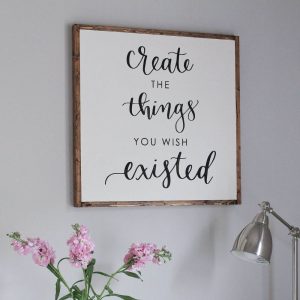 How to Make a Wood Sign with a Vinyl Stencil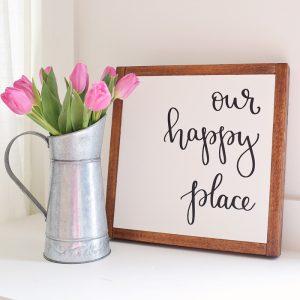 How to Paint DIY Wood Signs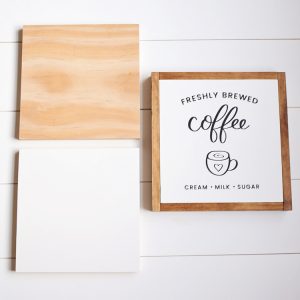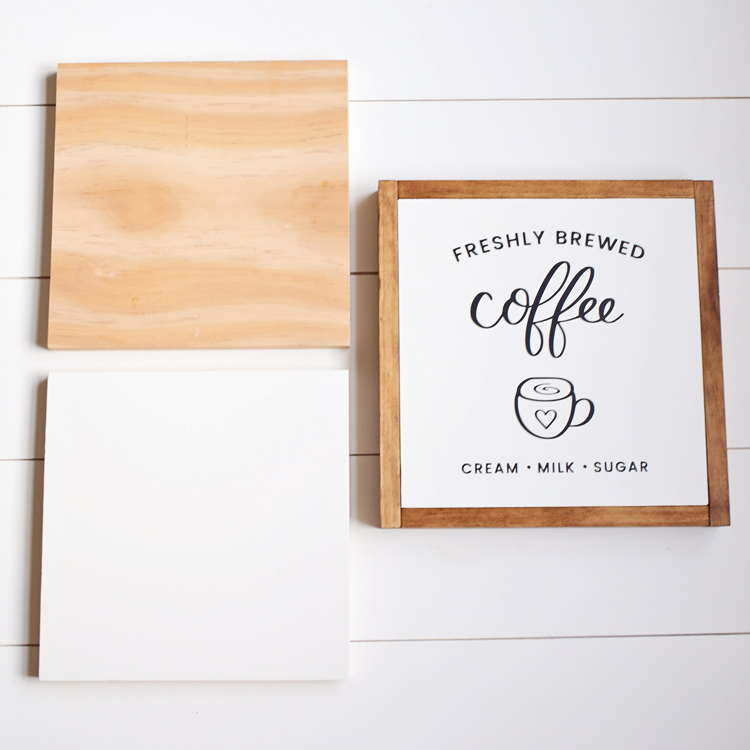 3 Ways How to Frame a DIY Wood Sign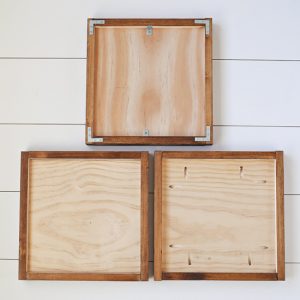 Save
Save
Save
Save
Save
Save


Save
Save
Save
Save
Save