DIY wood crate projects offer endless possibilities for upcycling and repurposing. They are an inexpensive, versatile medium for you to add functionality to your home with a personal touch.
You can find simple instructions and tutorials to turn crates into furniture, such as bookcases, tables and benches, or storage solutions, like toy boxes and stools. Wood crates can be re-envisioned for home décor too. There are many inventive ways to turn them into wine racks or shelving.
26 Brilliant DIY Wood Crate Projects to Make Your Home Cooler
DIY wood crates can be customized to fit your design style—from modern to shabby chic to rustic. The wood is easy to stain, paint or decoupage. Vintage crates can be preserved and sealed for an eclectic addition to your space.
An added benefit of DIY crate projects is that they can be done quickly for a low cost. Wood pallets are frequently offered for free over the Internet, particularly on sites like Craigslist. You can also ask local grocery stores, liquor stores, warehouse stores and home improvement stores for crates or pallets for free. Craft stores, such as Michaels Craft Stores, Hobby Lobby and Jo-Ann Fabric and Craft Stores, sell several sizes of crates for a minimal cost. You may even have some around your house. See some of our favorite DIY wood crate projects below!
1. Upcycled Elegance: a DIY Coffee Table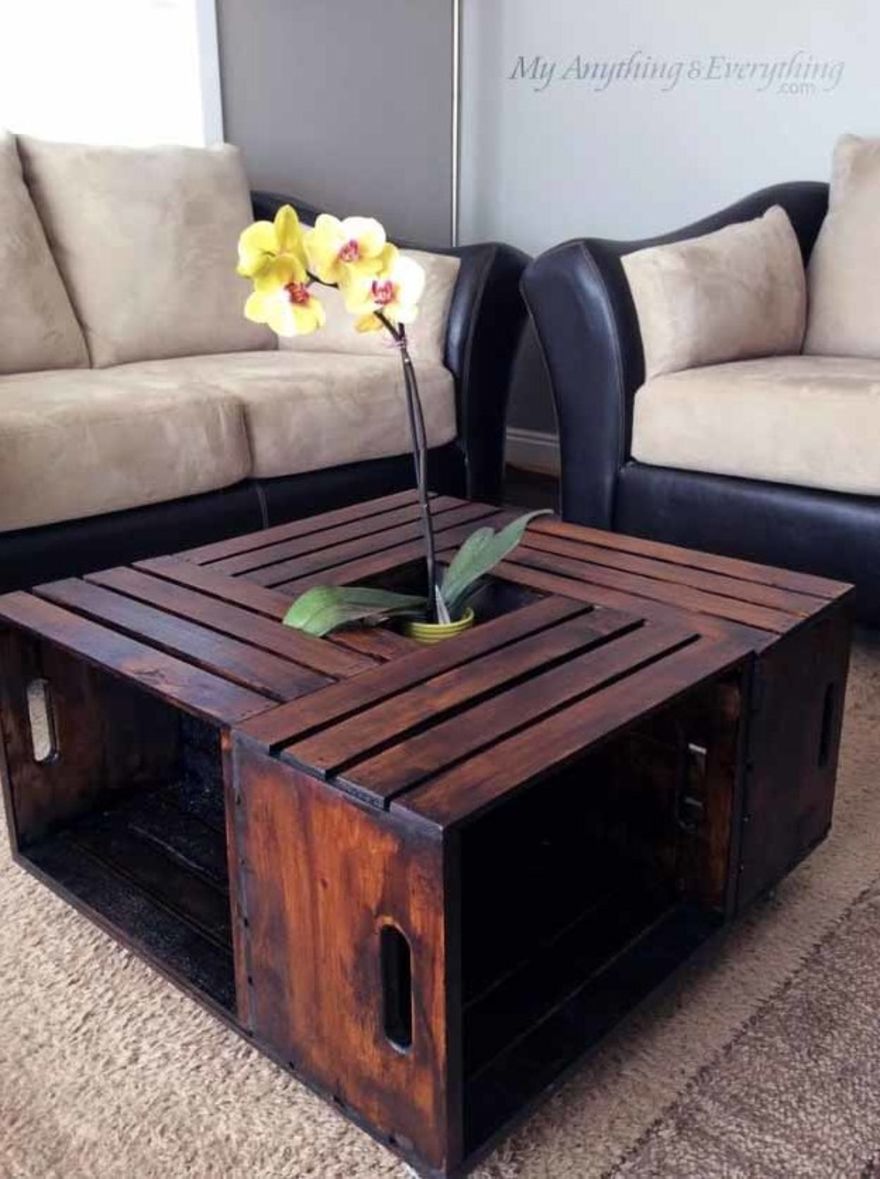 DIY Project Details: myanythingandeverything.com
No need to sigh for that out of reach industrial living room table any longer. With a few tools, you can create this rustic DIY coffee table that has a charming farmhouse flair without the hefty price tag. Its castor wheels give it that industrial look that is so popular in stores like Arhaus and Pottery Barn. The dark stain disguises these inexpensive wooden storage boxes, and gives this piece a fabulous patina. The clever design with a recessed center panel lends itself well to seasonal decorations, from a springtime orchid, to a miniature Christmas tree or even a bowl of scented pine cones.
2. Functional Furniture: Crate Bench Project

DIY Project Details: hometalk.com
Decorate your home with this wooden storage crate bench and watch your friends grow green with envy at your creative talent. Perfect for storing boots, shoes, books and bags, the list of uses for this bench is endless! Imagine filling it with chic baskets to tidy up a play room. Organize that mud room or awkward foyer with this cheery rustic bench. The red wash on these storage crates is easy to apply, and really enhances their farmhouse appeal. Coupled with a few extra boards and some industrial looking bolts, this design is easy to execute, but rates high on appearance and creativity.
3. Simple and Versatile DIY Wood Crate Bookcase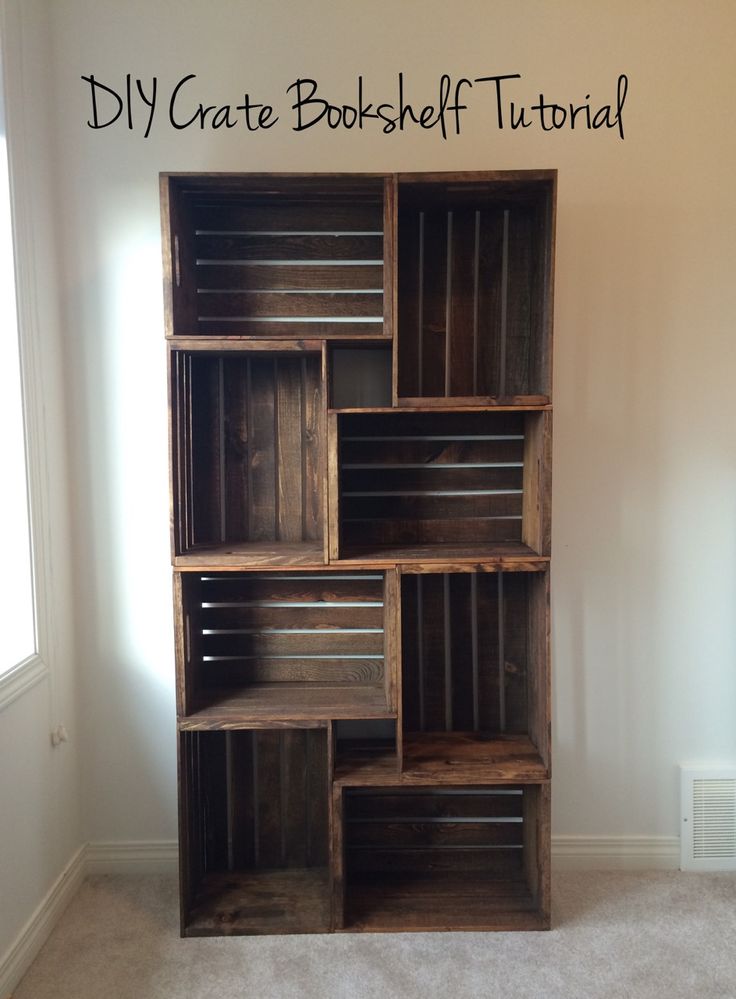 DIY Project Details: taramichelleinteriors.ca
Have you given up on your kids' bookshelves not looking like a hurricane just hit them? This creative wooden crate idea is perfect to help little ones and teenagers alike keep books, beloved projects and backpacks looking tidy. This shelf is incredibly versatile, because you can set up the wooden storage boxes in whatever shape best fits with your existing furniture. It doesn't even require plywood, simply collect some wooden crates, screws, a drill and your choice of finish and you're set! With this much Pottery Barn appeal, though, you may just want to keep it for your own room. Friends will be calling you for help with their decorating dilemmas when they see your farmhouse chic creations.
4. DIY Shabby Chic Side Table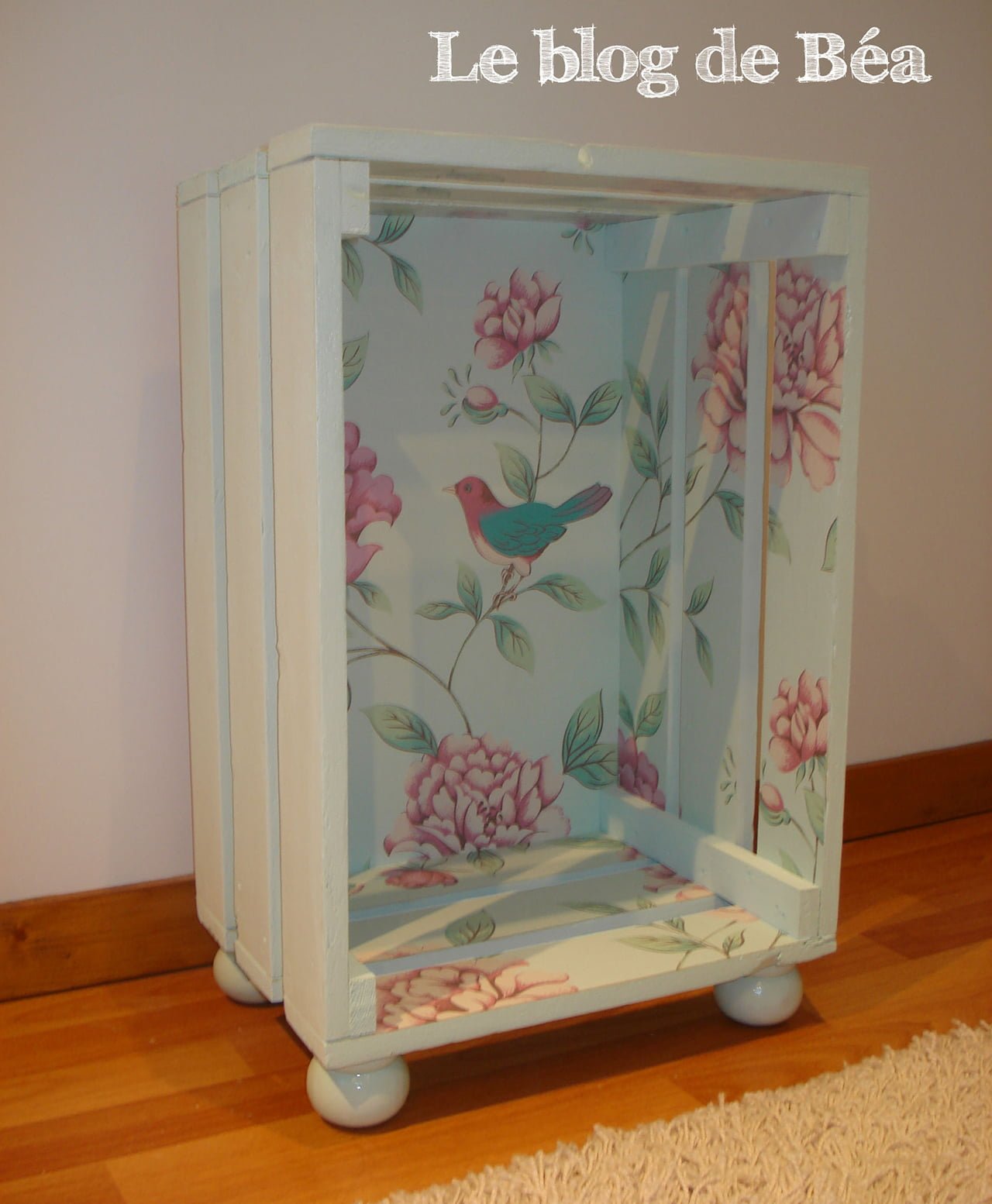 DIY Project Details: beatrice4273.canalblog.com
This made from scratch wooden crate is beautifully crafted with a decoupage interior. If you love French country decorating, this little table is a fabulous use for those gorgeous floral wallpaper scraps that are too small to use but too pretty to throw away. A quick sanding, coat of paint, and wallpaper application, and you'll be ready to assemble this custom crate. Perfect for decorating baths and bedrooms, accent your existing color scheme with luxurious patterns and rustic characteristics of this decoration with wooden crate. Fill this crate with some rolled towels, or hang it as a floating shelf to display your treasures. Attach ball feet and use it as a diminutive night stand.
5. The Ultimate Upcycle: Wood Crate Desk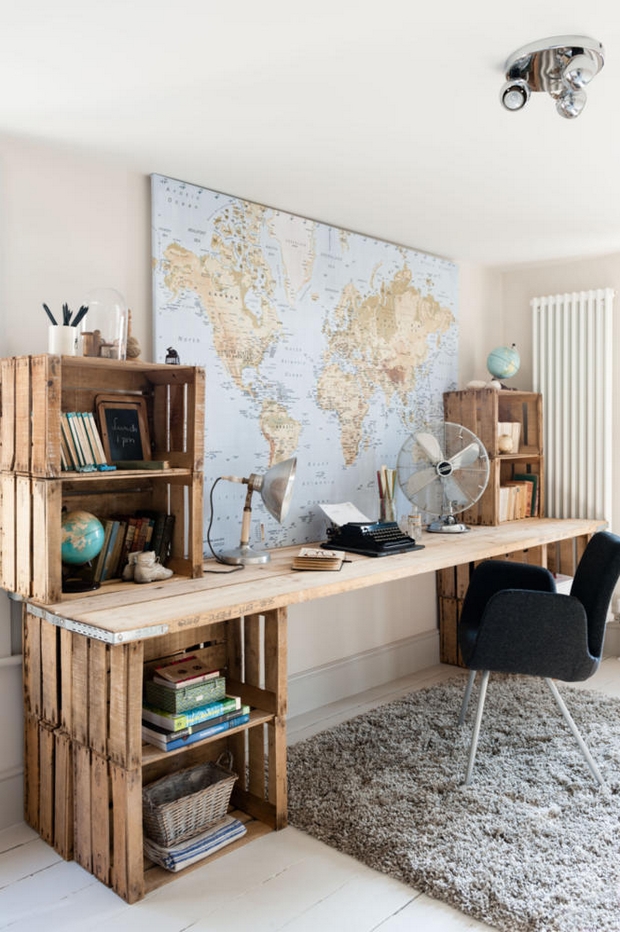 DIY Project Details: upcycled-wonders.com
We've seen many of the kids' projects, how about a modern country computer desk for yourself, though? Wooden storage boxes bring farmhouse charm to your home office, and save you a bundle in the process. This simple, but sturdy, desk features metal brackets for a decorative touch and gently distressed wooden crates. You'll find the best crates for this project at architectural salvage yards, antique shops and flea markets, and the more worn they are the more unique and distinctive this project will look. Either choose to create this desk with a variety of vintage crates or use antiquing medium to give brand new craft store crates a timeless look. The best part of this project is the fact that it's completely customizable to your space.
6. From Crates to Console Table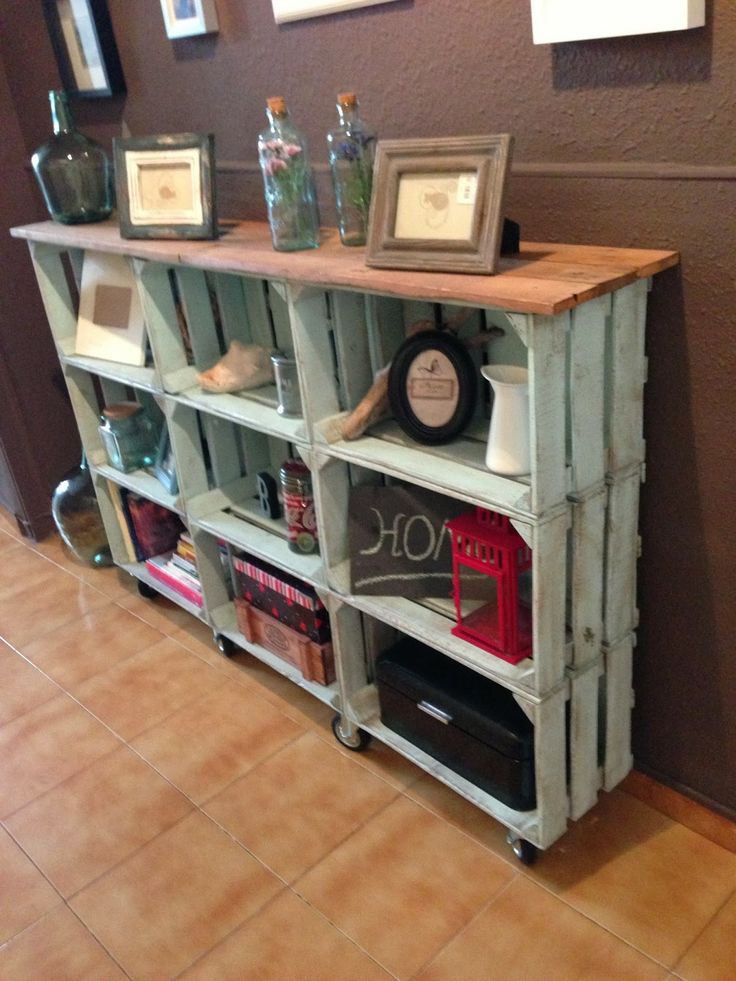 DIY Project Details: diyandcraftsdecoration.com
This rolling shelf has such a perfect combination of cottage charm and modern practicality. The contrast of the blue wash on the crates with the dark wood top brings so many themes to mind, from beach-y bungalow to farmhouse flair. Built on caster wheels, move this organizational piece from room to room with ease. Use it in the foyer for storing snow boots, hats, scarves and mittens during the cold, winter months and then switch it to a playroom for summer sand toys and beach towels. You may want to fill the boxes with baskets, but my guess is that you won't want to cover up too much of the gorgeous, sky blue finish.
7. Creating a Stool with Storage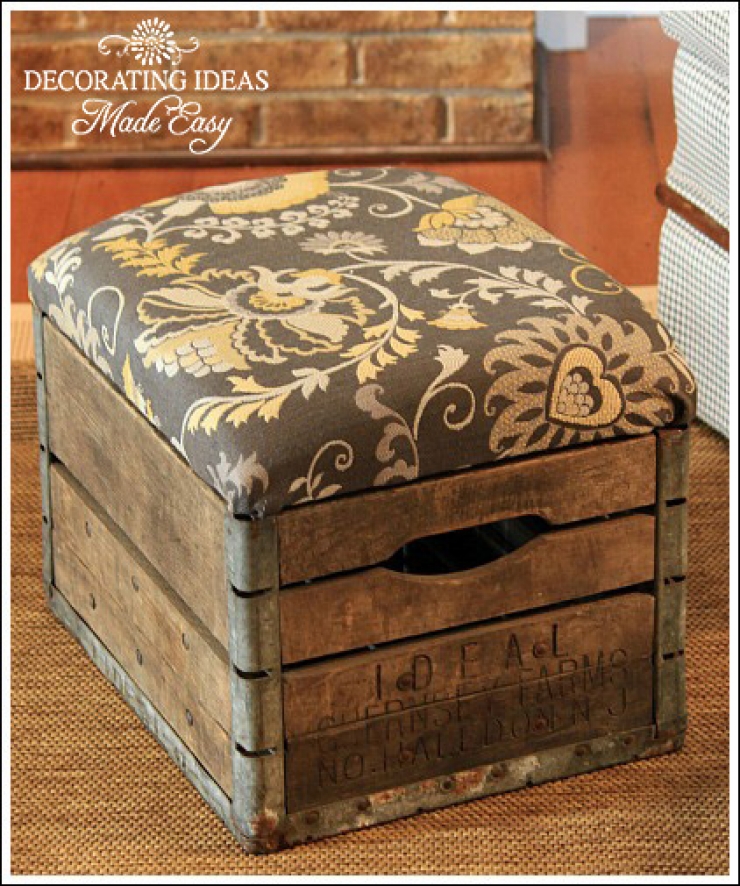 DIY Project Details: jenniferdecorates.com
Your friends are going to drool over this up-cycled wine crate! This particular project really does need a special crate, so you may spend some time at flea markets or yard sales looking for that perfect, authentic wooden box with a little patina. However, the finished upholstered ottoman is a piece of cake to put together. With the step by step directions, you'll have this piece ready in no time. It only requires a square of plywood for the base, batting and a remnant of upholstery fabric. Really, the fun in shopping for the crate and your favorite shabby chic fabric will make this project seem more like play than work.
8. DIY Colorful Mud Room Cubbies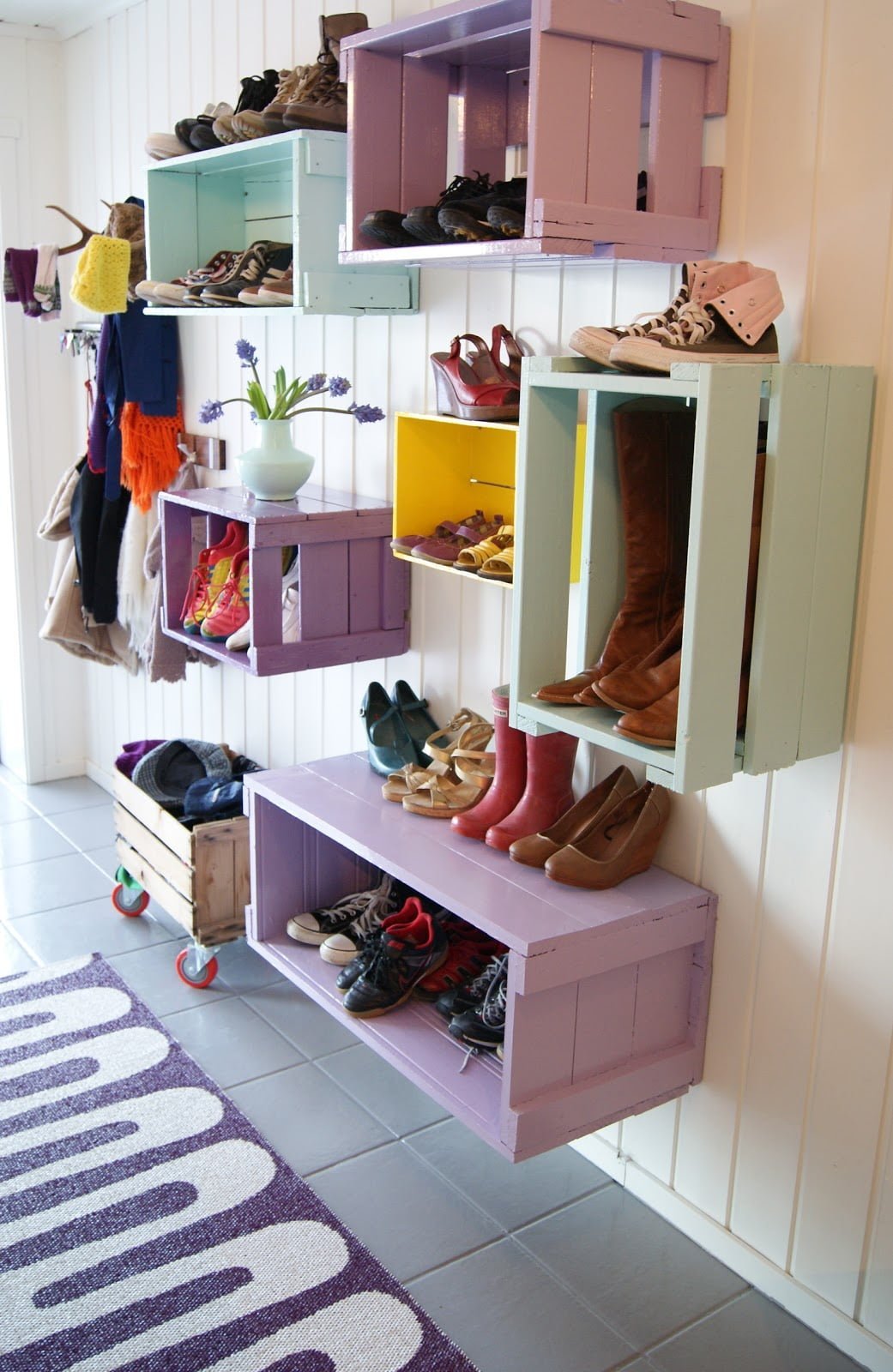 DIY Project Details: theverden.blogspot.hu
Is your entry way limited on floor space? These decorative, stacked, wooden storage boxes create the perfect, space friendly organizational method for cramped quarters and high traffic areas. The color scheme is key to this decorating hack, because these wooden crates offer both functionality and tie a room palette together. Coordinate your shelves with the colors of a favorite throw rug, photo frames, or even the predominate palette of your home. Imagine these boxes painted in calming hues of grays, blues and beige, the options are limitless for this floating wooden crate idea. Finish off your space with a new throw rug and a few accessories, and you'll feel like you've upgraded an entire room.
9. Creative Kids' Car Collection Storage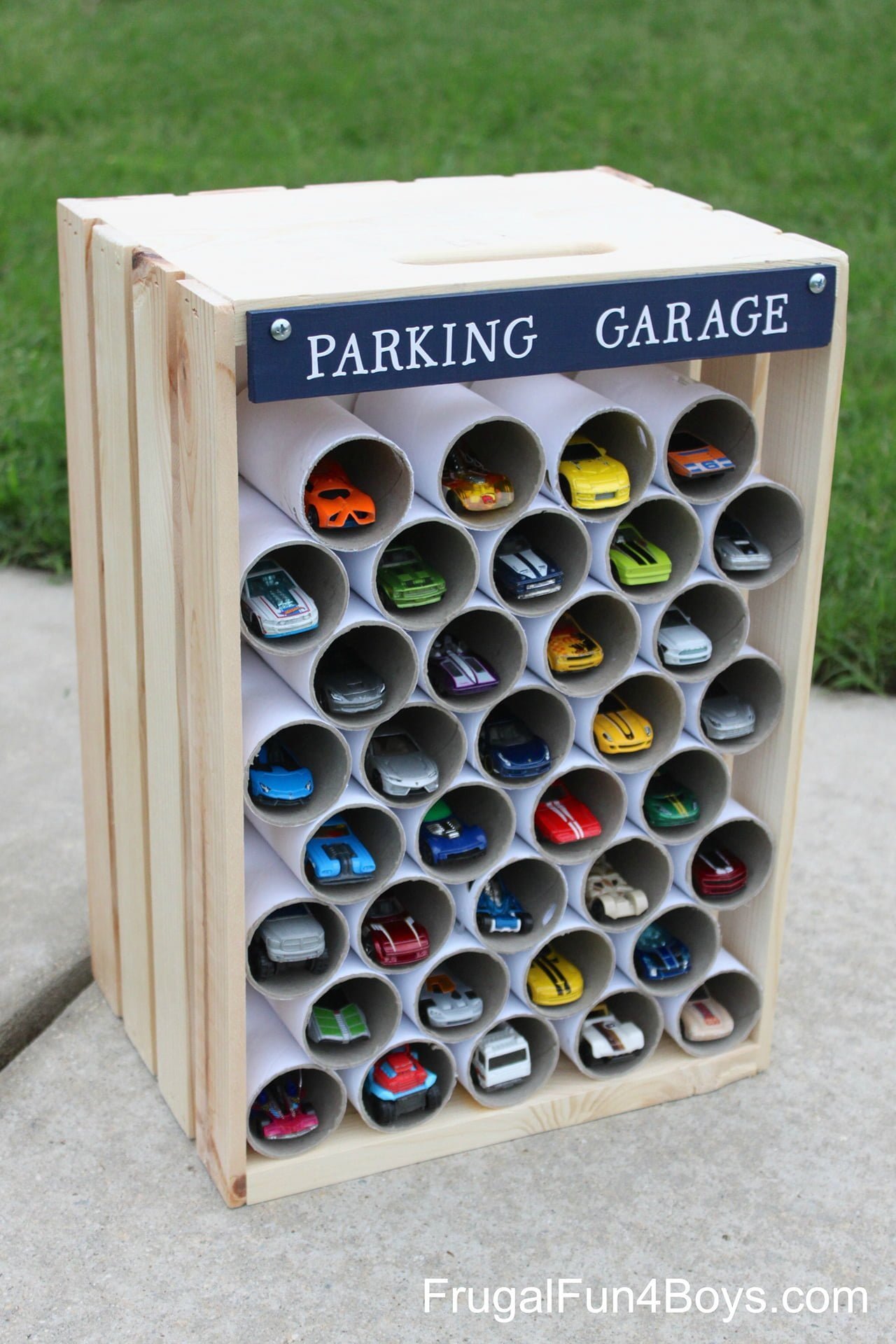 DIY Project Details: frugalfun4boys.com
Who hasn't wished for a way to justify buying gorgeous, vintage hardware at thrift shops and flea markets? Usually the best pieces are too random to use on dressers and vanities, but they have so much decorative potential. This clever wooden crate idea is the perfect way to put them to use while organizing jewelry, keys and anything else that hangs. Style this wooden crate hack by your judicious eye for antique metal pieces. You can customize these boxes by choosing themes from flowery French provincial pulls to rough, blocky, industrial looking bolts. With just a drill, some distressed wooden boxes and some elbow grease, you can bring farmhouse chic to your jewelry display with this rustic, wooden crate makeover.
10. Inexpensive and Stylish Side Table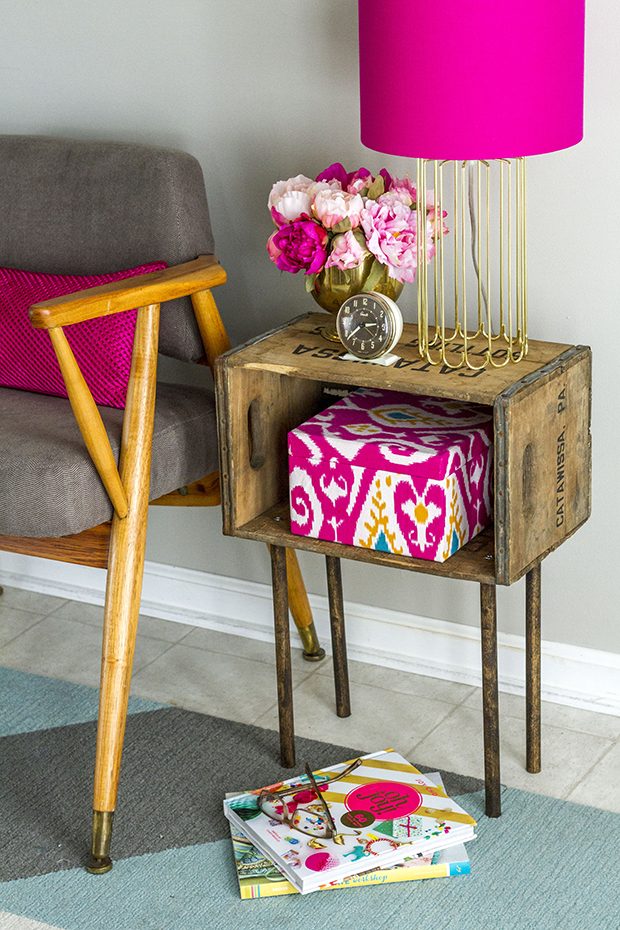 DIY Project Details: ehow.com
End your search for a chic side table with this up-cycled wooden crate idea. You may be fooled by the appearance of copper legs, which gives this design an industrial look that complements décor from minimalist midcentury modern to frilly French country. Instead, however, this table is constructed with dowels stained with a faux finish. You could easily put this unique table beside a masculine leather sofa, or a velvet accent chair. The key to composing a beautiful room is collecting pieces that contrast with each other while engaging an overall theme. Classy doesn't have to mean complicated, and this decoration with a wooden crate shows off simplicity and style.
11. DIY Toy Box on Casters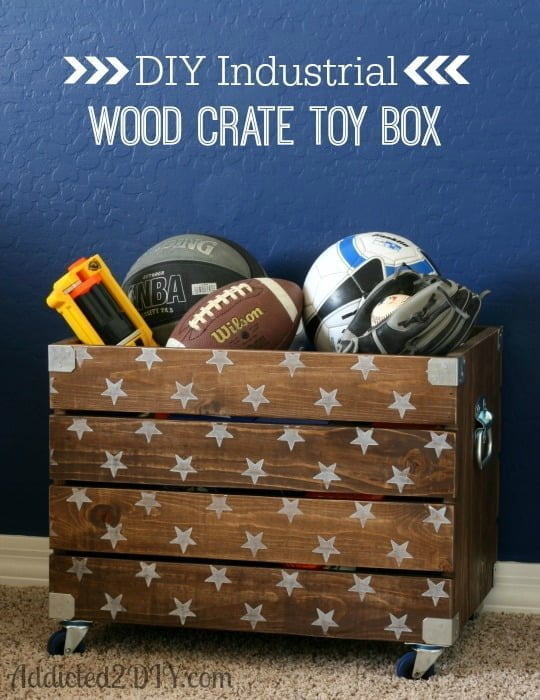 DIY Project Details: addicted2diy.com
No need to shop around for a wooden storage box, make your own custom-sized crate with this detailed step-by-step tutorial! Perfect for toys, equipment or supplies, this rolling box can be customized with whatever style of stencil you choose. From stars for a sports-loving child, to scrollwork and flowers for your own craft room bin, there are so many ways to make this practical piece look as creative as you are. You'll find this handmade wooden crate ultra-sturdy and finished with wheels and pulls, so it's easy to move. Put this custom DIY toy box on your honey-do list for the weekend!
12. Durable DIY Pet Bed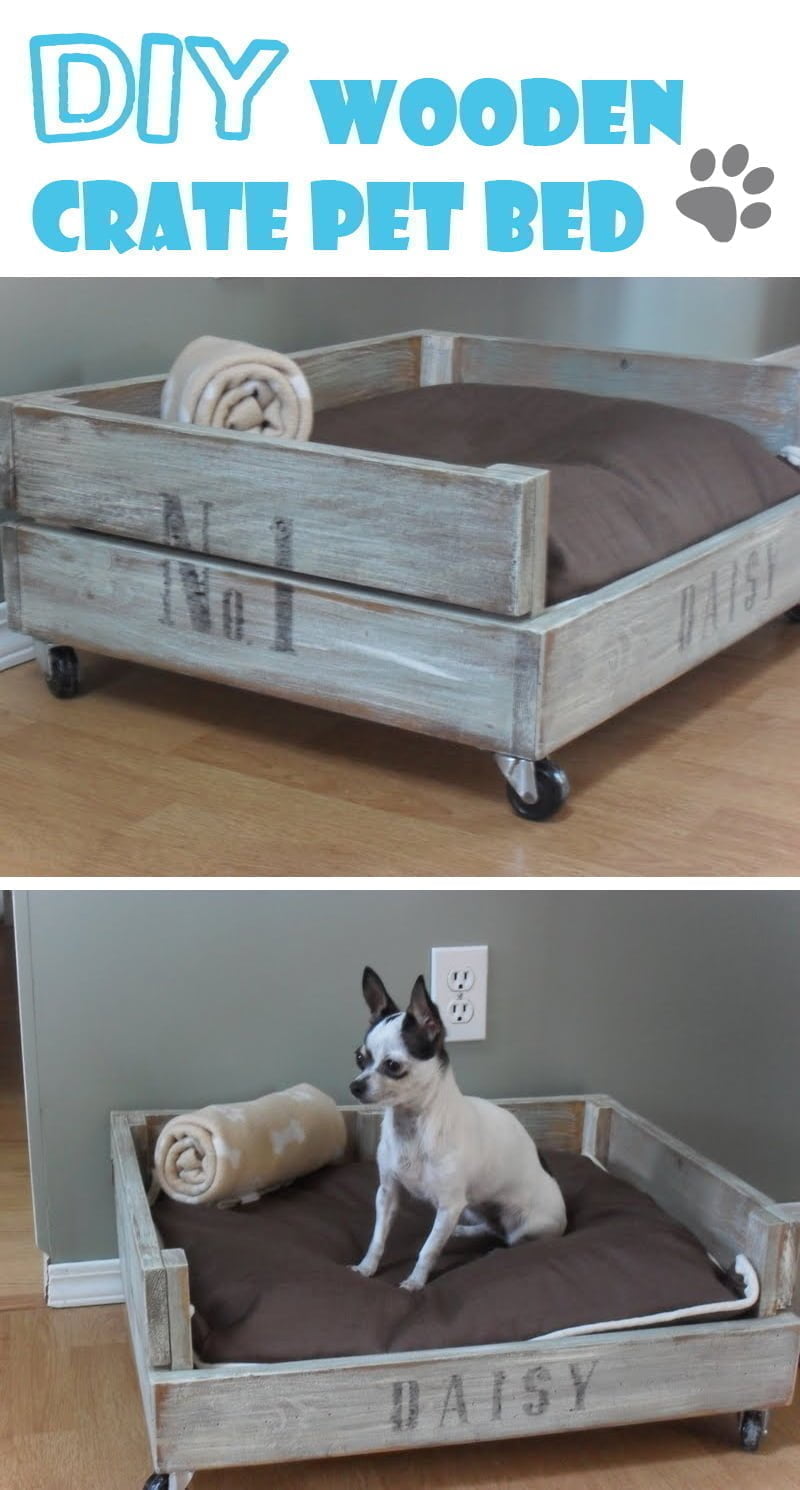 DIY Project Details: home-frosting.blogspot.hu
We all love our pets, but we usually don't enjoy decorating with their accessories. Not so, with this European country pet bed. You'll find every DIY distressed finish tip you could hope for on this adorable decoration with a wooden crate. With just some steel wool and vinegar, you'll give brand-new boards a vintage, antiqued look that will rival any Pottery Barn furniture. Follow the freezer paper lettering hack to give this bed an authentic packing crate look. Customized with your own pet's name, this wooden crate idea make a perfect Christmas gift for Fifi or Fido. This distressed finish pet bed will look just as amazing in your living room as your own furniture.
13. Wood Crate Stacked Entryway Shelves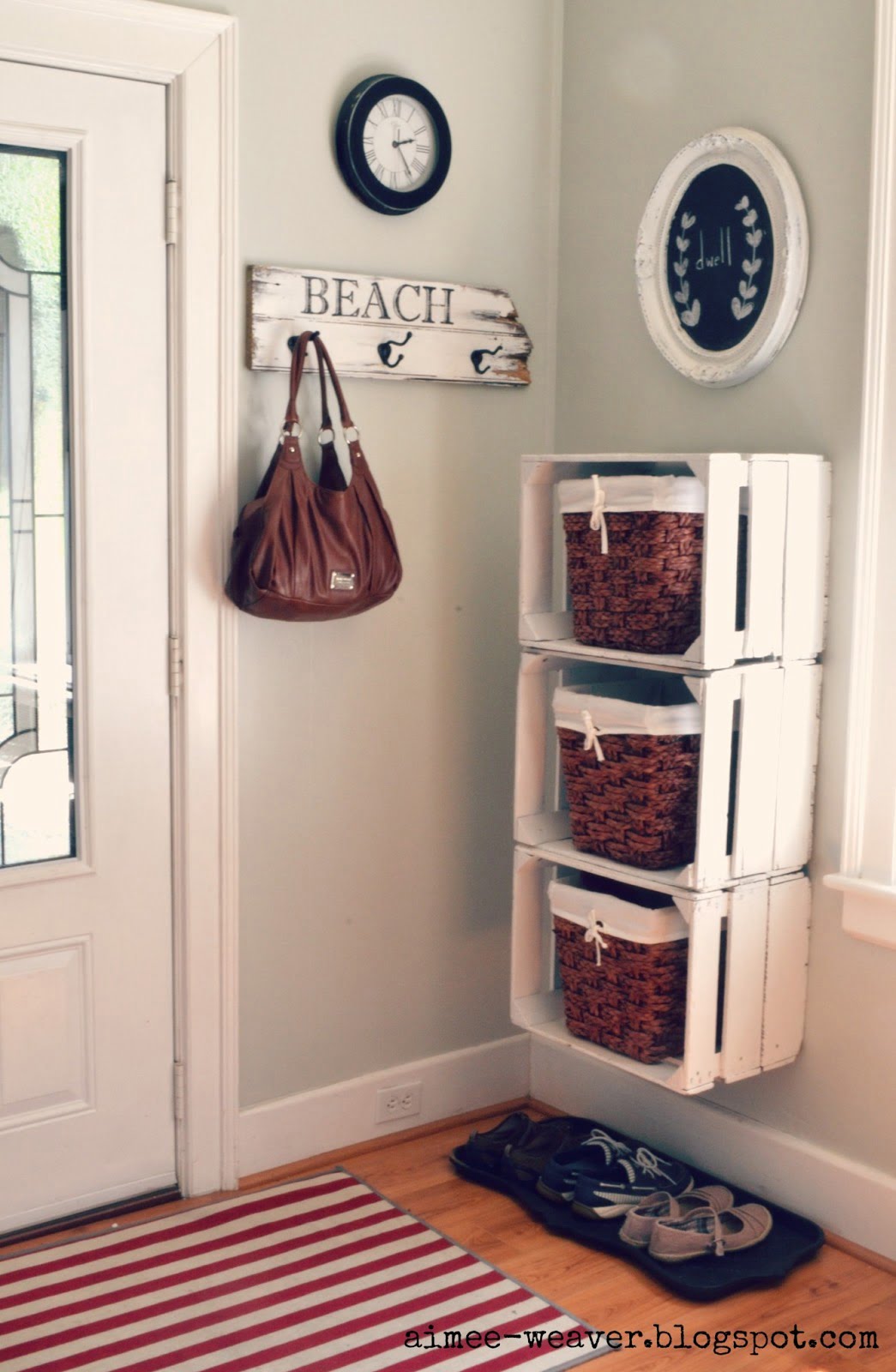 DIY Project Details: aimee-weaver.blogspot.hu
Say YES to this great entry way storage unit. The key to this small space concept is creating harmony by using a single, calming white for all of the pieces. Any neutral color would accomplish the same harmonious look; you could imagine this look in a dove gray, pale blue, or distressed greige. This combination of wooden storage boxes is so simple to create with thrift shop finds, your friends will never know it just cost pennies to complete. With a few metal brackets and some spray paint, renovate that messy corner and bring peace and tranquility to your entryway.
14. DIY Cabinet with Sliding Crate Drawers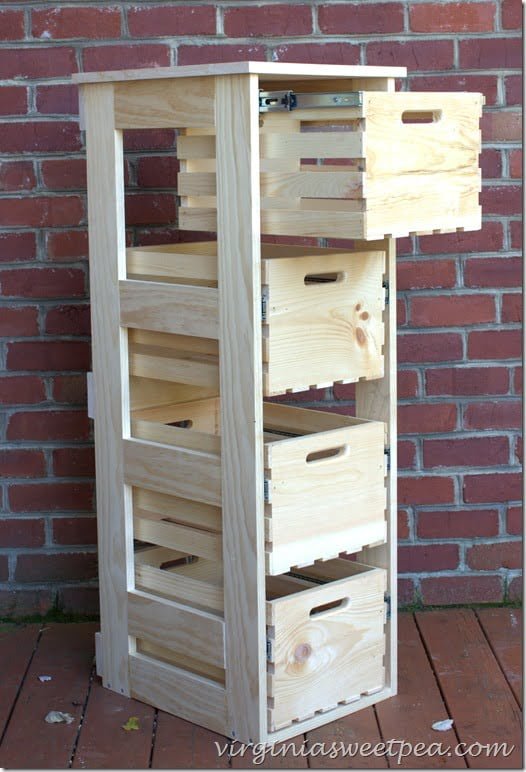 DIY Project Details: virginiasweetpea.com
Bust out a sliding crate cabinet with these incredibly detailed step by step instructions. The metal grooves keep your country, wooden storage boxes sliding smoothly in and out of the rustic cabinet frame. Keep the natural finish, or use an antiquing medium or stain to bring out the wood grain and natural charm. Imagine using this in a farmhouse pantry or kitchen. It could also function as a home office filing cabinet, a bathroom organizer or even to hold diapers and baby supplies in a nursery. This cabinet requires more carpentry skills than most of the projects in this list, but the visual instructions will help you get through the process, and you'll love the results.
Our Favorite Farmhouse Baskets and Bins to buy on Amazon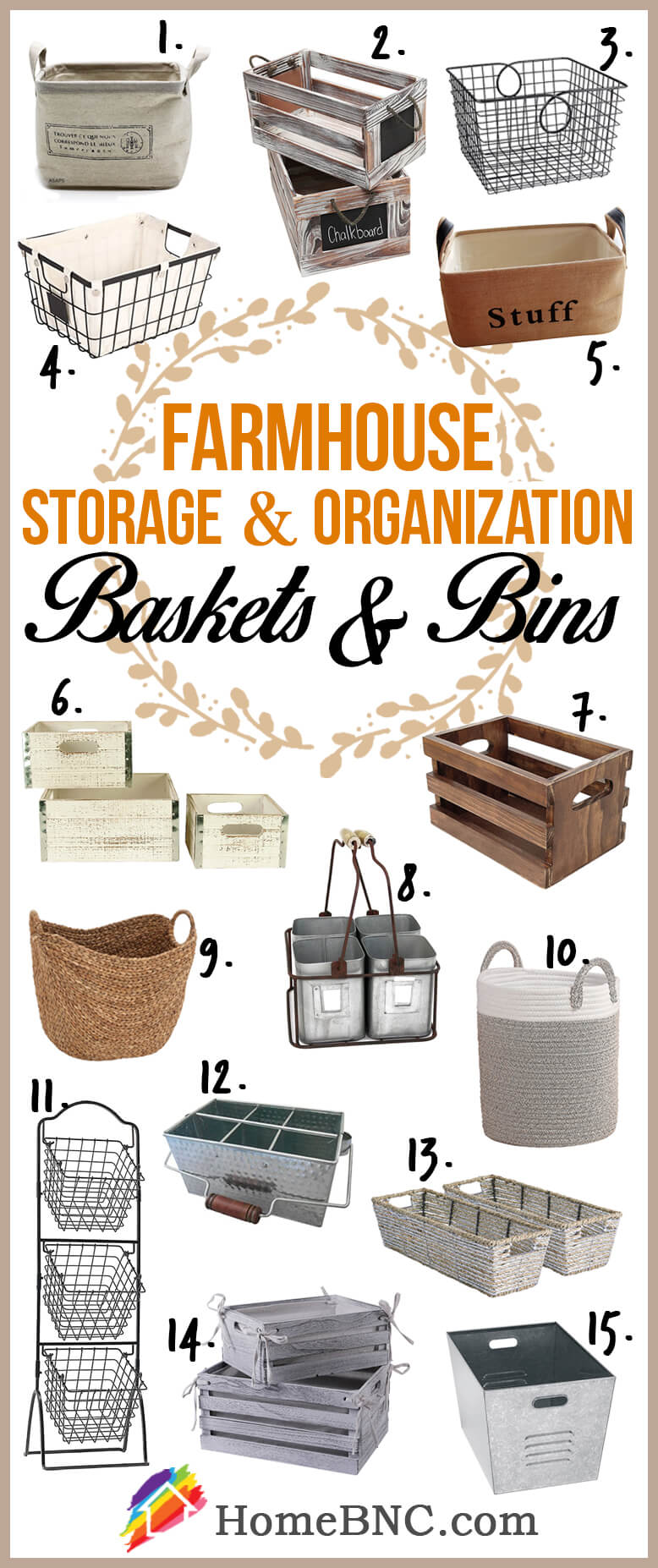 1 - Cotton Basket | 2 - Storage Crates | 3 - Gray Basket | 4 - Wire Basket | 5 - Storage Bin | 6 - Whitewash Crates | 7 - Vintage Crate | 8 - 4-Tin Organizer | 9 - Large Basket | 10 - Woven Basket | 11 - 3-Tier Metal Basket | 12 - Utensil Caddy | 13 - Woven Basket | 14 - Wooden Crates | 15 - Galvanized Bin
More DIY wood crate project ideas on the next page…
15. Use Crates to Expand Your Bathroom Shelves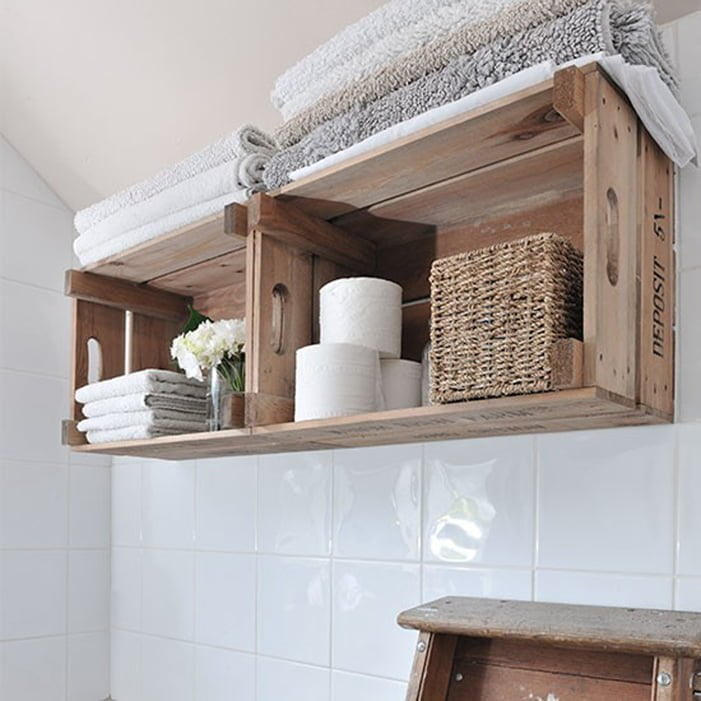 DIY Project Details: comparemymove.com
Organize your bath or laundry room with this handy idea for wooden storage box shelves. These floating wooden crates bring warmth and interest to a sterile looking, white tile bathroom, while keeping your towels and rugs organized. Imagine placing these over a washer and dryer to keep soaps and home goods easily at hand. A stud finder, drill and screws are all that's necessary to upscale your cleaning areas from boring to shabby chic.
16. Tabletop DIY Wood Crate Projects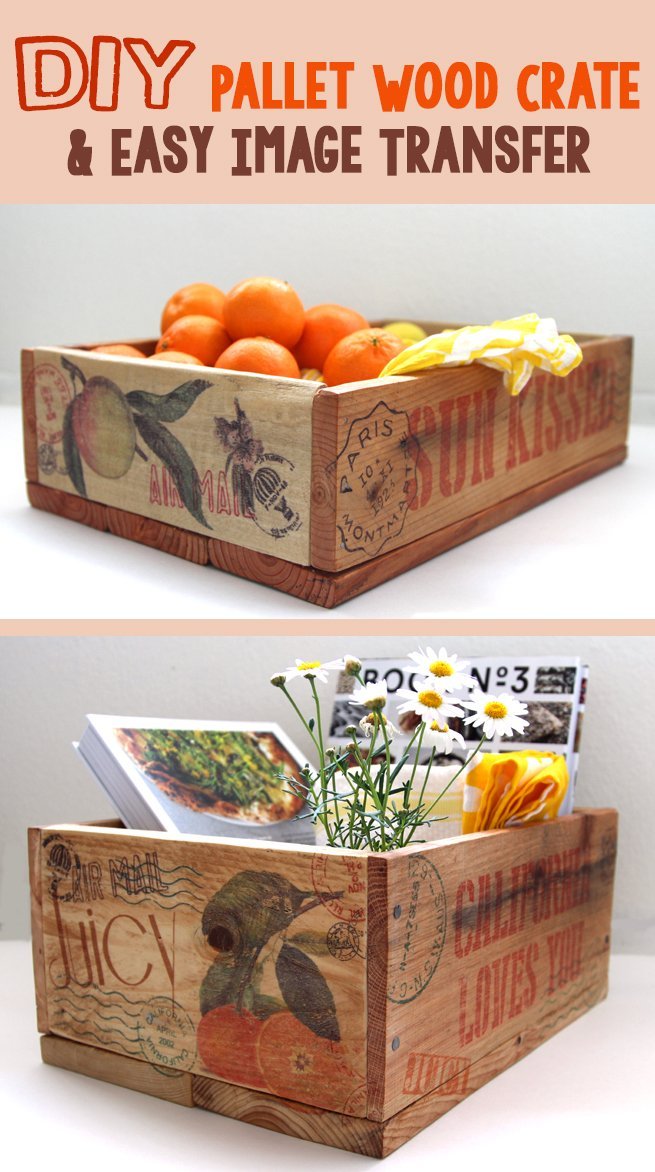 DIY Project Details: apieceofrainbow.com
So you've hunted everywhere, and the cool, vintage, wooden crates with the amazing lettering are ridiculously overpriced. The whole point of DIY is to save money, so what's a shabby chic enthusiast to do? Create your own wooden storage boxes from free pallets, of course! This great DIY tutorial will take you step by step through the process of choosing the best pallets, constructing them into wooden crates and giving them that authentic, vintage look. With a simple print-your-own transfer tip, you'll just use wax paper you'd find in your kitchen to apply any theme you can print to your rough wooden boxes. Finish off these boxes with a simple wax rub made from aromatic beeswax. No noxious chemical stains to be found in this fun project. Customize these crates as gifts, and enjoy the expressions when recipients realize you made something just for them.
17. Customized and Functional Crate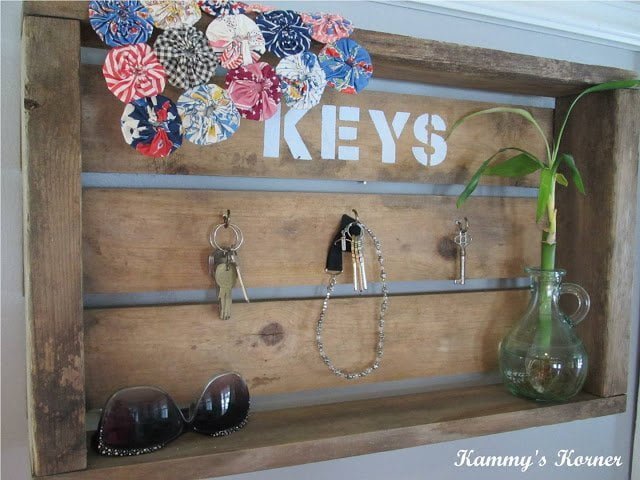 DIY Project Details: kammyskorner.com
Sometimes you'll find a wooden storage box with great patina, but it just doesn't fit into a composite design. Dress up an oddball sized crate with a custom stencil and hang it as an entry way key rack. This cute crate is designated with a key stencil, but would be equally charming adorned with your monogram, family motto, or favorite pet. You could dress this up with vintage mismatched hardware for a shabby chic look, or pull back to an industrial look with hand-forged iron nails to hang the keys on. Add a few accessories, like a potted succulent or perhaps a tiny framed blackboard for notes, to tie together your rustic theme.
18. From Wood Crate to Rustic Nightstand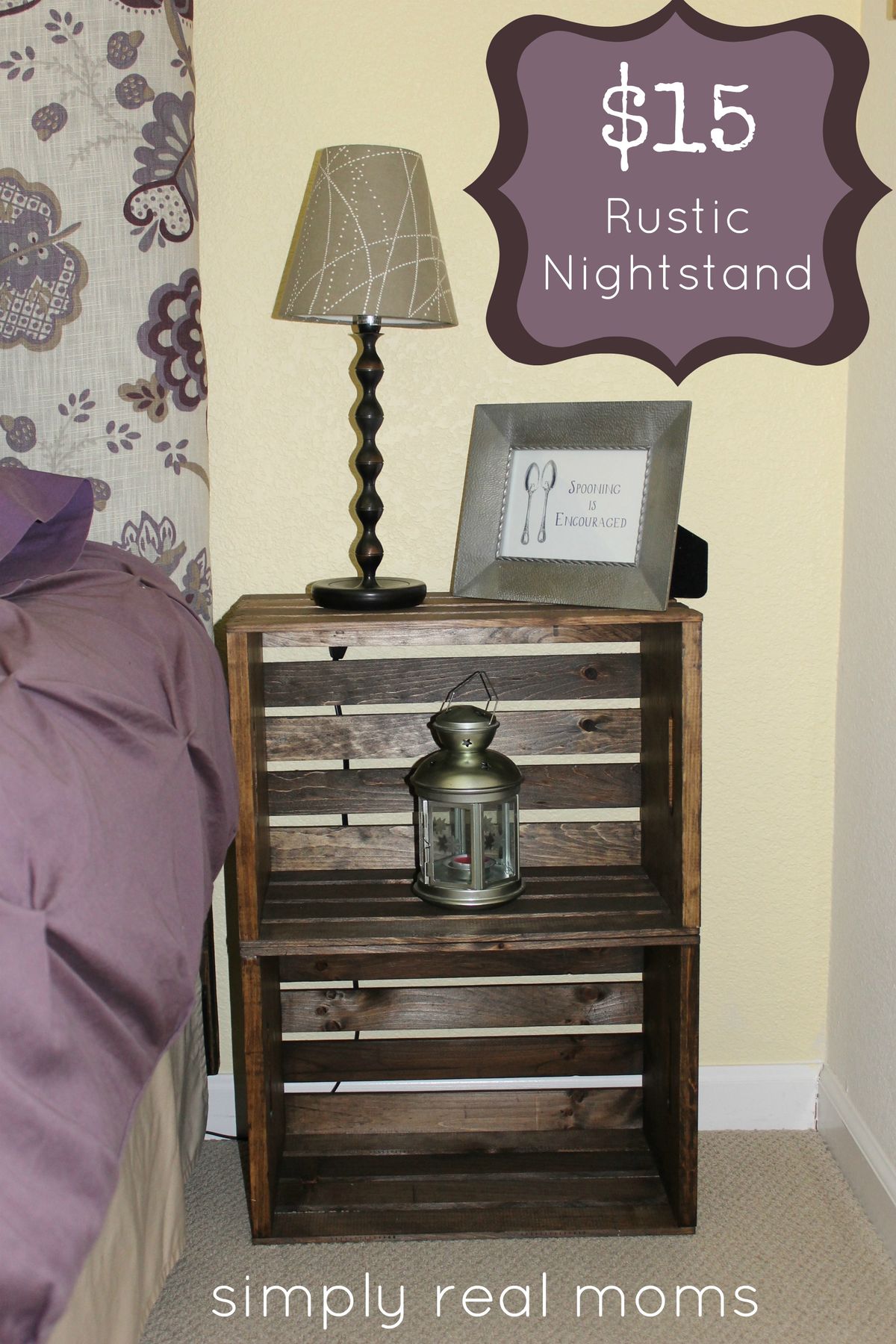 DIY Project Details: simplyrealmoms.com
This unpretentious nightstand is perfect for completing a guest bedroom on the cheap. If you're a DIY queen, you may have already spent hours working on refinishing dressers and headboards, only to be stuck without the essential end table. This ultra-thrifty option takes just an hour to put together and stain, and will give guests plenty of storage room. If you love a cottage look, this little table will delight your heart and your pocketbook.
19. Easy DIY Personalized Toy Crates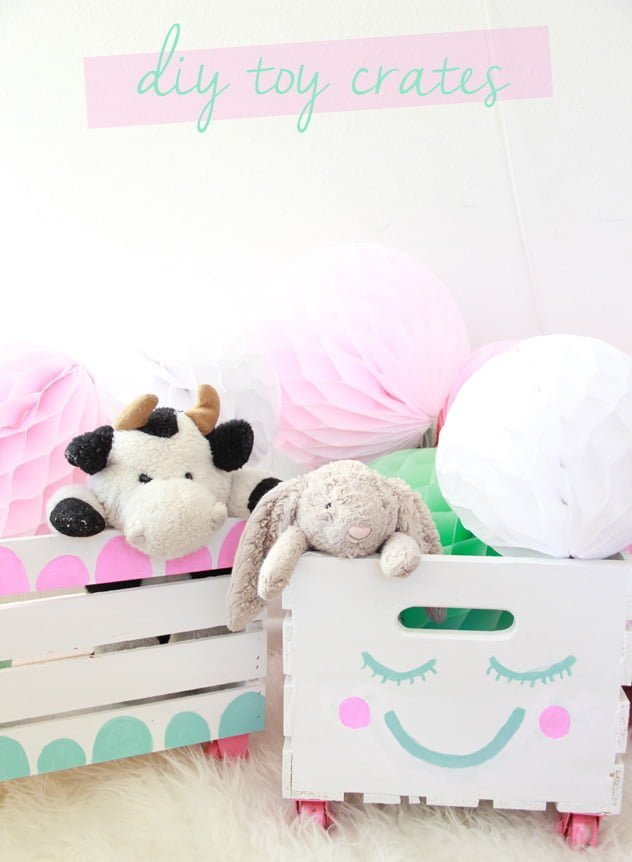 DIY Project Details: abubblylife.com
Toddlers love to push anything with wheels. This personalized rolling toy crate gives your little one a fun way to go cruising with their favorite toys. Check out the color coated wheels and cheerful paint job. No need for perfectionism here, the happy smiley face and lumpy pink polka dots look adorable in a nursery. This tutorial is easy to follow and you'll find this idea simple to customize to any theme.
20. Repurposing Crates into Wine Racks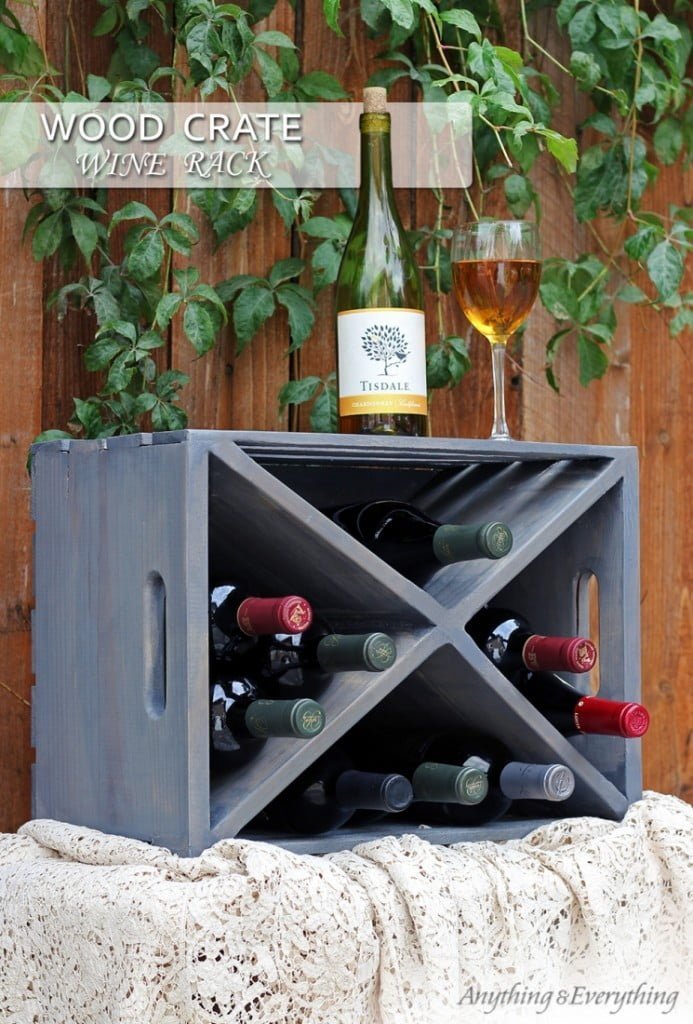 DIY Project Details: myanythingandeverything.com
Add a European flair to your kitchen with this easy wine rack made from a wooden crate and a few leftover boards. Sometimes the simplest ideas look the best, and certainly that's the case for this decoration with a wooden crate. Stained with a Minwax classic gray finish, you'll find this project takes just minutes to assemble. Just a few cuts for the crossover board are the only carpentry work you'll need to accomplish. Fill this cutesy rack with your favorite wines, and you'll be ready for that holiday party or Bunco night with the girls.
21. Re-imagine Bedroom Storage with Crates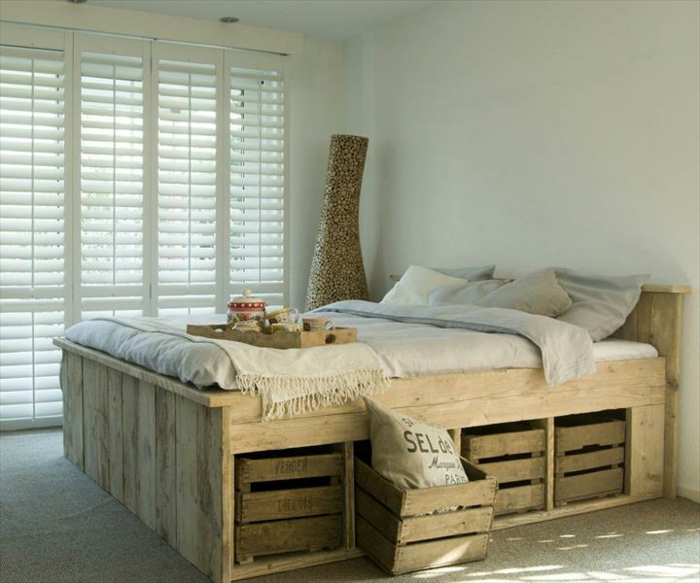 DIY Project Details: 99pallets.com
Rustic serenity will await you each night with this recycled wooden crate bed. Simply crafted from rough sawn boards and a bead board headboard, this bed showcases the ultimate creative use of salvaged wood and wooden storage boxes. Complete this simple look by choosing natural fabrics, like linen and cotton, and dream of blissful country vistas in this comfy up-cycled bed.
22. Decorative Storage for a Child's Room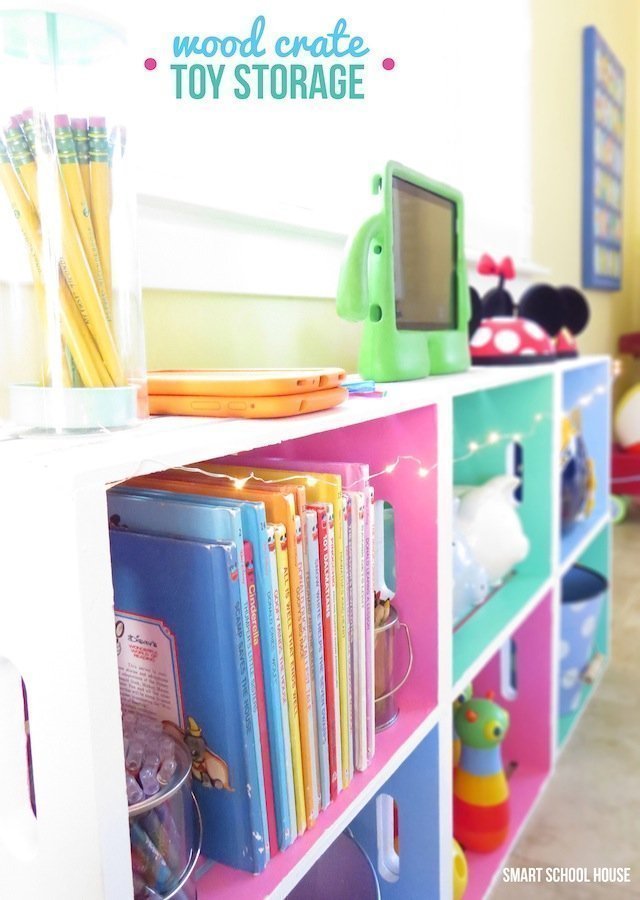 DIY Project Details: smartschoolhouse.com
What an awesome organizational method for these wooden crates! These kid-friendly storage compartments are color coded so that even a small child could identify their space. This shelving unit is super simple because only the insides of the crates require paint. A little painter's tape will give your project those crisp lines that look so professional. Whether you use the multi-colored idea to separate siblings' belongings or just to add a fun pop of color to a playroom, this is a great DIY wooden crate idea.
23. DIY Side Table on Casters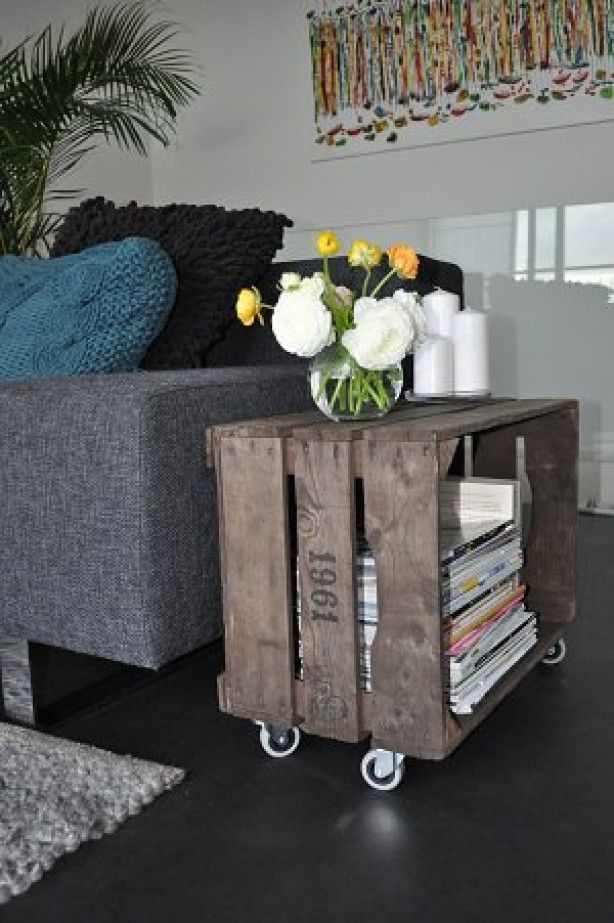 DIY Project Details: deveilingkist.nl
You'll need to scour the architectural salvage spots for a larger crate to give the right scale for this rolling end table. Just a little cleaning can bring to life the rustic character of an antique crate and castors will make this little side table easy to change out. Bookshelves often make a room look busy and cluttered, but this table stores the books handily while keeping them from being the focal point of your living room or den. Matched with either a modern or a country sofa, this table will bring rustic charm to your home.
24. Simple and Unexpected Book Storage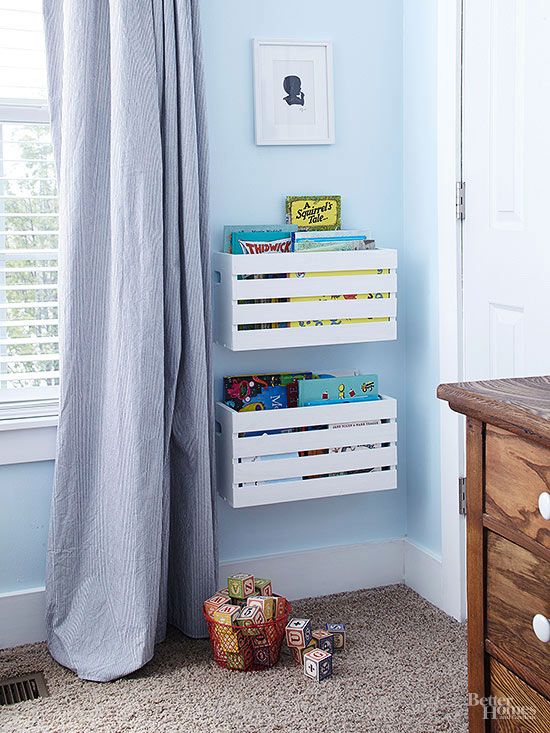 DIY Project Details: bhg.com
This floating bookshelf is excellent for the small child who loves their books, but cannot handle lining them up on a shelf. This project required cutting a wooden crate in half, which makes it perfectly proportioned for those thin Dr. Seuss books. A piece of matching plywood in the bottom will keep things from falling through while retaining the cutesy look of a milk crate. To complete the look for your nursery, paint this floating bookshelf to accompany the DIY rolling toy crates featured above.
25. Built-Ins Re-envisioned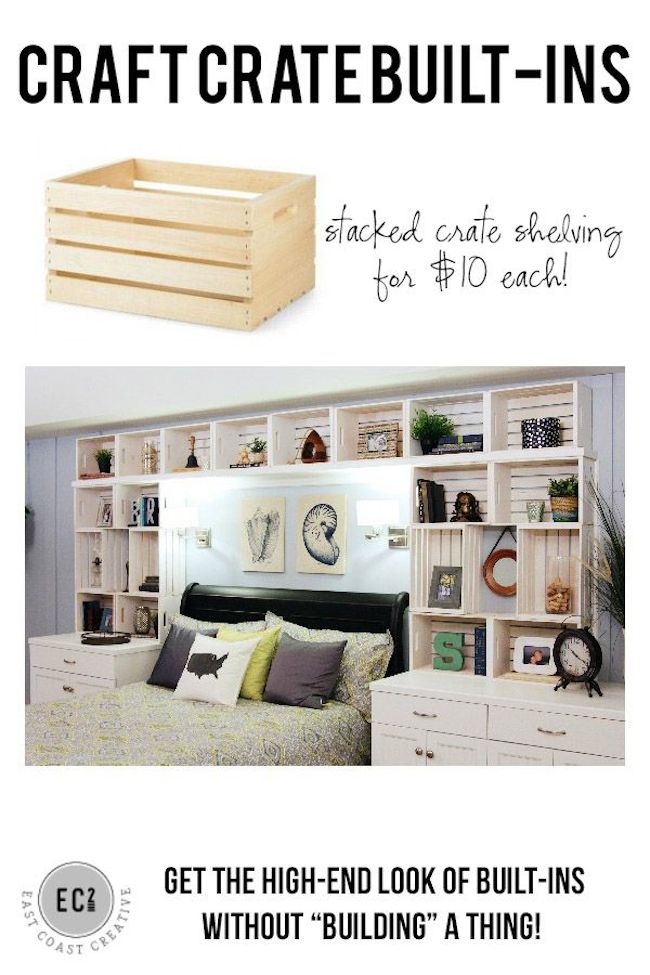 DIY Project Details: eastcoastcreativeblog.com
This classy built-in bedroom suite was designed to be thrifty and fabulous, and you can create this custom look, too. With some used bathroom vanities to up-cycle and a number of wooden storage boxes, this amazing DIY bedroom can be yours in just a few days. You'll need to invest in some spray paint or a painting rig to complete the finished look. A few nails attach these stacked wooden crates to the walls, so that there's almost no construction skills required to complete this amazing bedroom makeover. From nautical to cottage style, the possibilities for finishing this look to fit your decorating theme are endless. Fill these built-ins with personal mementos and family photos, and you'll fall asleep smiling at the love that surrounds you.
26. Unique Upcycles: Wood Crate Jewelry Displays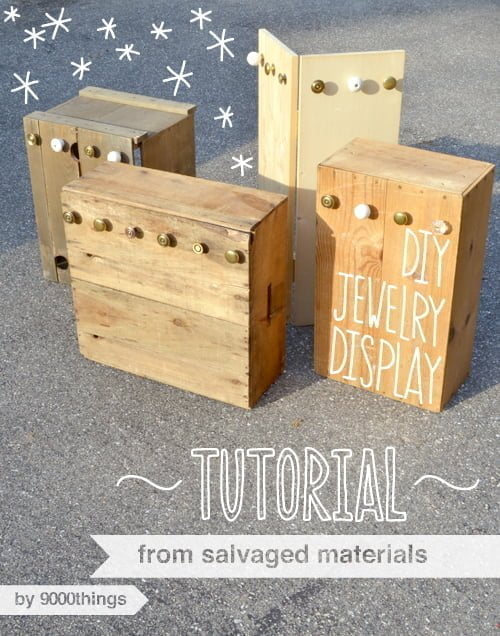 DIY Project Details: blog.ninethousandthings.com
Chances are that your little one leaves their Matchbox cars scattered everywhere. This Hot Wheels DIY parking garage is so easy to build and so easy to use. Every little child loves pipes and things with holes, so what better use of mailing tubes than to keep his favorite cars organized and neat? No construction is necessary to create this decoration with a wooden crate. You'll simply cut the cardboard tubes into short sections and glue them within the craft store wooden crate. A piece of cardboard can be cut to keep cars from rolling out the back. Customize the front with a hand painted wooden garage sign, and your little guy or gal will have an easy and fun way to put their toys away.
Are you Ready to Start Experimenting with Wood Crates?
You'll find rustic, unfinished wood is prominent in many of the hottest decorating trends this year. Whether you love Transitional, French country, or industrial decorating styles, this comprehensive list of projects utilizing wooden crates provides you with fabulous furniture and accessories. Build a complex wall unit, decoupage a French country end table, hang a simple key stand, or completely remodel your bedroom. The options within this collection of DIY projects range the gamut from simple hacks to complex multi-day projects.
Up-cycling and reusing discarded materials, like wooden storage boxes and pallets, is good for the environment and easy on your furniture budget. Find yourself a few vintage wooden wine boxes to beautify your home with this weekend, or build a crate from scratch with pallets. You'll find extensive instructions for the most novice builder, as well as home safety tips on how to find wood that has not been treated with toxic chemicals.
The helpful suggestions and DIY step by step instructions give you the tools to create amazing custom finishes and patinas which will have your wooden crates looking like charming, vintage, flea market finds. Many of these ideas use basic household supplies, like vinegar, beeswax, wax paper, and steel wool. Whether you're organizing your child's room, sprucing up a mud room, creating a country chic home office, or completing a rustic bedroom retreat, you'll find this curated list full of amazing, creative ideas to get you going. So what are you waiting for? Hit the wine store for leftover wood crates, check out the salvage yard, or make a craft store run and get started on a project this weekend. You'll love showing off your creative talent and your home will look amazing.