No matter how many ideas we have already offered here at this platform, there is a whole lot of some guys who are always craving for some more and more. Because they are almost always thinking about different pallet wood creations. They talk about pallet wood, they think about pallet ideas, and they always discuss it with their fellow wood pallet crafters, so in simple this is an obsession for them. For such crazy bunch we have got a lot of food for thought, a lot of pallet wood ideas and inspirations, here are the 50+ ways in which you guys can recycle pallet wood.
We have just started from this huge sitting arrangement deliberately just to show you guys the potential qualities of a bunch of the shipping wood pallets. I mean we just wanted to create a scenario which could give you a broader view deep inside the pallet wood works and their affectivity.
This is a detailed graphic tutorial of the wooden pallet project where we have introduced a whole pallet wood recycled deck for the outdoor spaces. This demonstrates that how step by step this entire wooden stage was created for domestic use.

This is another pallet wood recycling idea where we have created a garden terrace. Although the entire surface is stuffed with the wood pallet planks but we must not get worried about the finances because this whole lot was lifted from a construction site pretty of free cost.

Her we have placed a high from ground wooden pallet deck which is actually not like the typical one that is installed on the ground level. Infact this is much easier than that because here we just had to support it with a pile of whole pallets on the bottom, and a deck like wooden stage is placed right upon the whole pallets.

These wooden cabins are so common in the entire west. People normally use it for some recreational activities when they feel like sitting somewhere in the isolation and want to completely concentrate on some task that needs the whole attention.

Apparently this set up seems like perfect wooden pallet couches along with the coffee table that is pretty matching to the rest of creations. But actually these bottom less couches are mere wooden sheets that were created using the pallet planks and certainly was much easier that the conventional pallet wood couch making.

Here again we have created a whole wide set up for the garden. We have recycled a pallet wood table that is quite simple in design. It has got no complex structure or patterns that were hard to pursue. And same is the case with the pallet wood repurposed set of chairs.

This sort of daybeds are an informal wooden furniture item which make you totally relaxed. They are used pretty casually when you need to spare some time not exactly in the bed inside your bedroom but out in the lounge or somewhere other than your bedroom.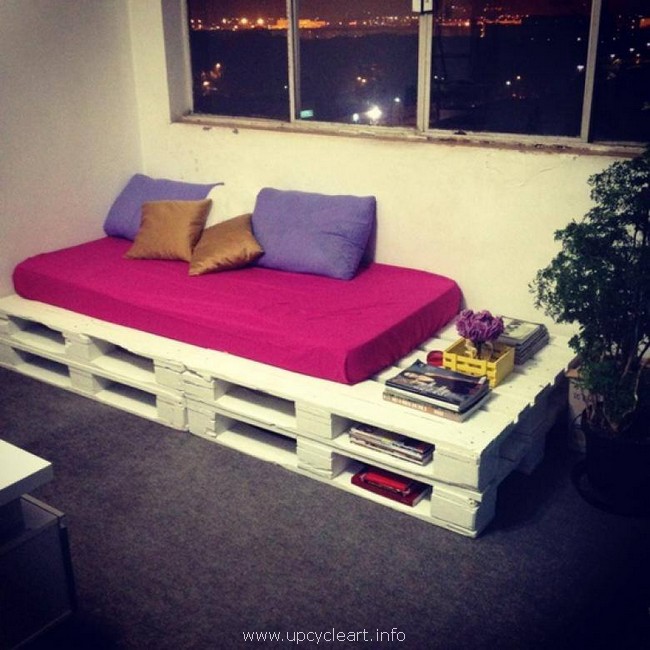 I think this is one of the finest decorated balconies that I have ever seen. The bright white curtains tied up with eye catching silken fabric patches, and the pallet wood repurposed long couch has over shadowed the entire scene with their lusciously romantic and soothing look.

Ok, now we are turning towards some indoor pallet wood creations that are needed in every house. I mean your bedroom won't be called a bedroom unless it is not having a proper wooden or some metallic bed. That is why this decent rustic wooden pallet bed is dedicated to your personal bedroom.

This wooden pallet dressing is all inspired from the conventional dressing tables which are considered to be an integral part of a well decorated bedroom along with the table. We have used very stylish dark brown shade on it giving it a pretty fascinating look.

Do you remember the wooden cable reels that we have used in several projects of ours? Yes this is the same wooden cable reel that is being used here again, we have turned it into a stylish sitting couch. The design is simply outclass, and normally it would be good for single person at a time.

Do you conceive it as a normal pallet wood repurposed coffee or centre table? If it is so then you are mistaken my fellows, this is actually a table cum pallet wood chest that would take care of a lot of your accessories. Does it look nice?

Well, honestly speaking we could have made it much complex and decorated, but we have deliberately recycled this pallet wood upcycled closet so simple, it has got a couple of reasons. First this was for the ease of beginners secondly we also wanted to keep it as simple as possible.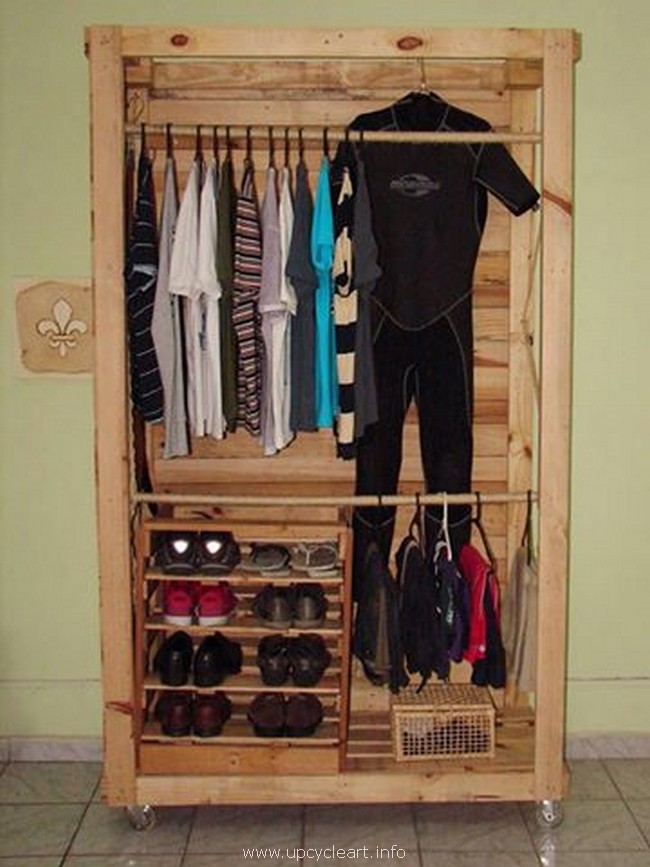 This garden stuffed with the vintage pallet wood creations seems to be a part of some fairyland. The rustic dingy look of the shipping pallets seems quite mysterious, but actually this is the deterioration caused by the time. This strange shade has escalated the beauty of entire wooden pallet deck and the pallet creations lying onto it.

This one seems much familiar to me because this is the most frequented wood pallet recycled couches design that we have pursued countless times. And the best feature that is added to the wood pallet coffee table is the addition of heavy duty wheels that were reclaimed actually.

Wow, this whole pallet wood garden cabin is made with slim pallet wood planks along with the iron sheets. While in the corner we can see a wooden shade that is created again with the same timber, so this is basically a pallet wood land.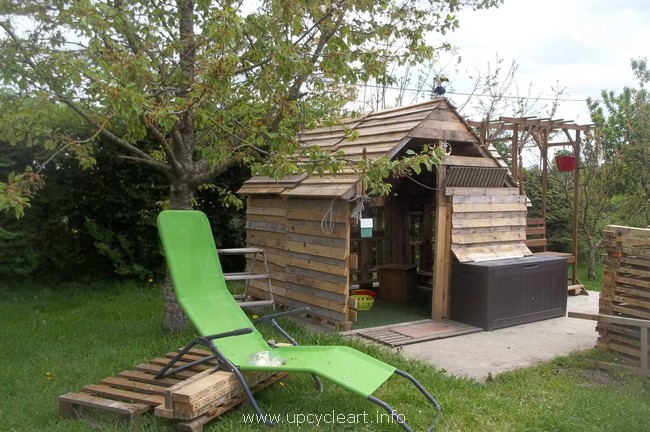 This raised pallet wood garden is also phenomenal, this stands pretty tall in the rest of the pallet wood vertical gardens and raised gardens. Though it is not mostly covered with the green foliage, and the owner of the garden has used it for planting his favorite plants.

Now have a look on much creative aspect of the wood pallet projects. We have made this wood pallet wall shelf, we also created these wooden alphabets, and a piano caricature was made very smartly as the button portion is made with the printed paper while the rest is all created with the shipping pallets.

Don't you dare underestimating this wooden pallet side table as a mere side table, but this is actually a whole comprehensively stylish pallet wood cabinet that has got a number of drawers and some tiny cabins where a lot of stuff can be placed.

I never have had this idea that this apparent scrap that we never bothered to preserve called wood pallet could of so great help like this sort of wood pallet smoke house could also be created with the same timber. This is the real potential power of the wood pallet.

Here we have displayed the wall are ideas that were all executed with some rustic and deteriorated shipping pallets that were literally of no use anymore. So here we have turned them into an ultra stylish pallet wood wall art on which we have pasted the old photo frames. It looks quite interesting to the eyes.

Here comes another smart wooden pallet wall art idea, this is purely a decorative addition inside the house or this could also be named as pallet wood light work because inside the wooden panels there is a glowing bulb that is creating so mesmerizing effect in the entire room.

While here we come across another executive sitting space. Each and everything in this tiny space is simply gorgeous. The rocker chairs seem to be brought from some big brand, but we also gave it a touch by the wood pallet wall cladding. Some of the finest pallet planks were employed for this certain task.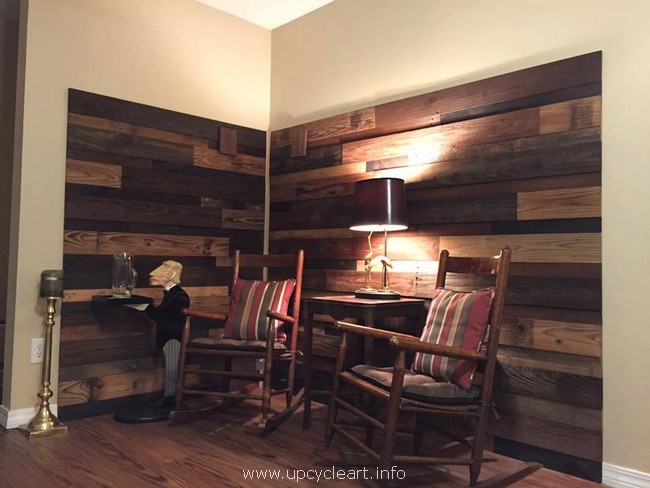 This is not a plain wooden pallet creation but we can very clearly see the raised head in the one end, so this is basically a pallet wood sun lounger. We have given some fine treatment to the texture of the wood because here people would lie sometimes naked from the top and it would have direct contact with the skin.

As the time is passing by, we have buckled up to keep introducing some ever new ideas like this very first wooden pallet tool bench. Earlier there used to be the typical tool boxes.

Well, don't confuse this one with the rostrum or the dice that we usually see in the class or conference rooms. This is actually a drafting table and we have designed it in a very genius manner. It has gota  steep top which is perfect for the drafting purpose.

This is again a kind of old idea where we have decorated the entire home balcony with the pallet wood upcycled furniture that we can see everywhere. Like a smart and straight wooden pallet couch along with a tiny wooden table. So the balcony is turned into a real worthy place.

And here we see a classic wood pallet table that has got the reclaimed legs that are so stylish and attractive. They were reclaimed from an old furniture item that was no more in use. While the whole table top is made using the shipping pallets ofcourse.

Wow, this entire pallet wooden media set up is commendable. I mean a whole comprehensive setting is made with the same material. There are a lot of pallet wall shelves and some decent tables on the ground. All media related devices can easily be placed on this wooden set up.

This rack seems to be influenced and inspired from the shoe racks that we usually see in the market typically. It has got a multi tiered structure and each panel could be used to display a different shoe article. This is an ideal rack for the classification of different articles.

No need to go for the typical installations for your house anymore, nor you are compelled to make huge expenses on these wooden installations like this wood pallet studded wall mirror because we have used the wood pallet planks here again. And infact there is a big cabin inside the portable wall mirror.

Just imagine how great it would be, if your entire home's wood work is all done with the same shipping pallets? How much money would be saved straightaway? The importance of this wall rack containing different spices in the kitchen must be asked from the lady of the house who runs the kitchen.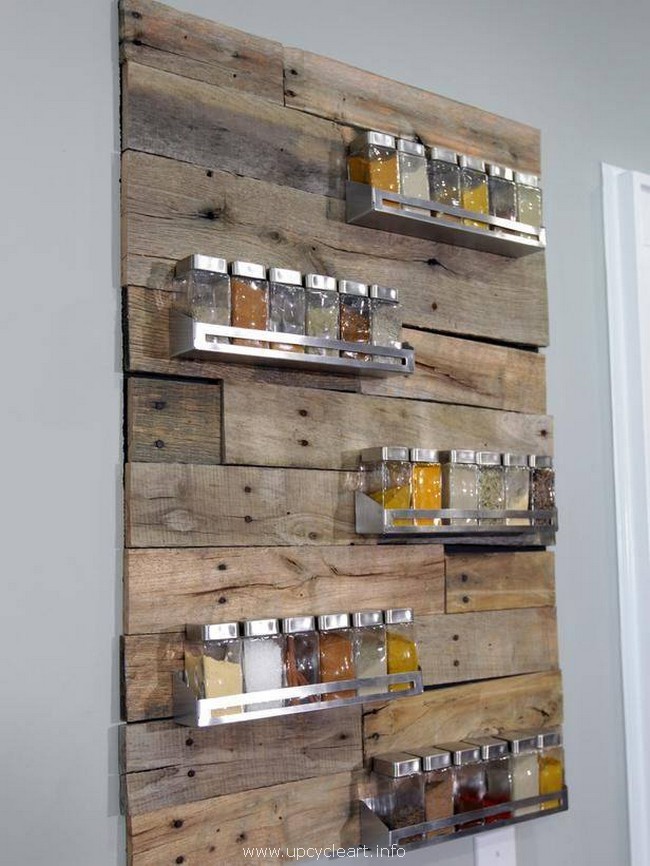 This concept of the wheels on the bottom of wooden pallet furniture items isn't new at all. We actually borrowed it from some mentor pallet wood crafters and pioneers. They say it adds a lot of value and ease in the movement of the heavy wooden pallet furniture item.

I feel so bad for these mountain bikes because people don't seem to be much associated with them anymore. Advancement has literally wiped them out. But if anyone of you has still got the one with you, take some good care of it and create this cycle stand.

I think this vanity is far different from the common vanities that we see around us. This is actually a vintage pallet wooden vanity table. We have taken care of it from all the aspects, we made it appropriately by using the appropriate pallets and also the design.

And this is a new addition in the wooden furniture items. This smart and funky pallet wood bench is a perfect substitute of huge wooden couches and sofas that are more formal in the looks. So it would create an atmosphere which would be totally informal and easy.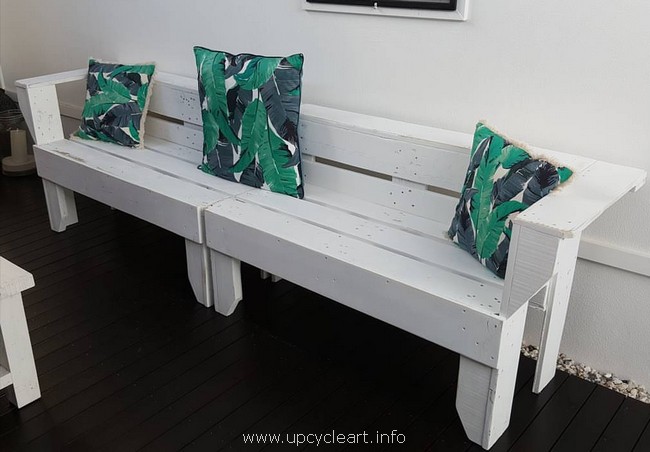 From a distant look it seemed to me a proper wooden room bed but a close look revealed that this is actually a pallet wood daybed. We have placed it in the patio so this could be used instead of the pallet wood sun lounger. This would allow much easy posture to you.

From the wooden fence to the wooden small door, each and every embellishment for your garden can simply be created using the shipping pallets. This wooden door is a clear demonstration of potential power and class of this material that we are convinced is one of the best available materials.

More and more business class which was turning a blind eye to the pallet wood creations earlier is now switching to these economical substitutes where more and more furniture articles can be created against some minor expenses. And I believe this is the real acclamation of pallet crafts being considered by the business and professional class.

These pallet creations were made with the finest shipping pallets that were available with us. We have recycled a smart pair of wooden couches, a gorgeous centre table and a typical slim wooden pallet bench on the front making it a multi dimensional sitting space.

As the article proceeds, we are trying to introduce almost all kinds of pallet wood creations and their basic inspirations. For instance this grand wood pallet planter is a whole package because of its beauty and usefulness. So this is basically container of multiple planters inside it.

Now this is some typical shape of a wood pallet planter that is attached to the wall normally. We have also created a couple of standing pallet wood planters as well, but according to me this sort of pallet wall planter seems much attractive. Each tier is exploited in the best manner.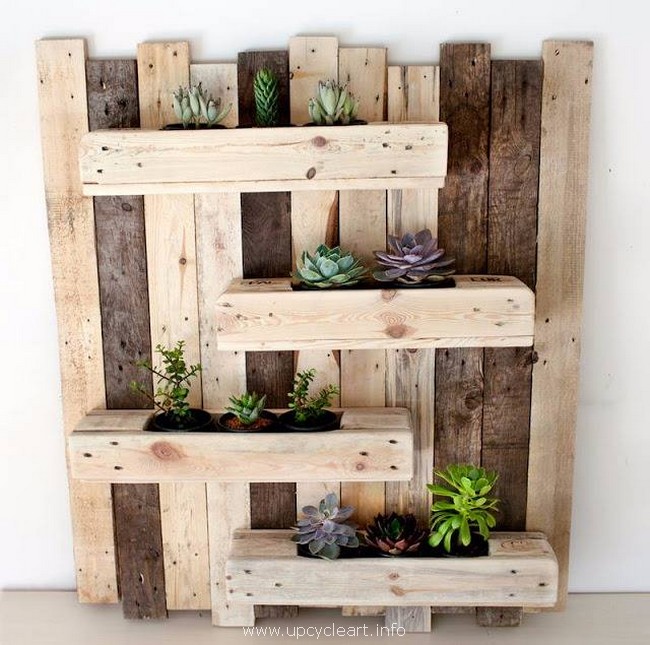 Even this one isn't a straight and simple pallet wooden wall rack or shelf, but this is a multi purposed wooden creation that can also be counted as a wall embellishment or room décor item. We have just placed on it some light decoration pieces that weren't too heavy for this to carry.

While this one is more like a classic wood pallet wall shelf. It has also got multiple tiers but different in size just to pour some style in this straight and simple wooden creation. And after that we have used one of the best shades to be applied on it.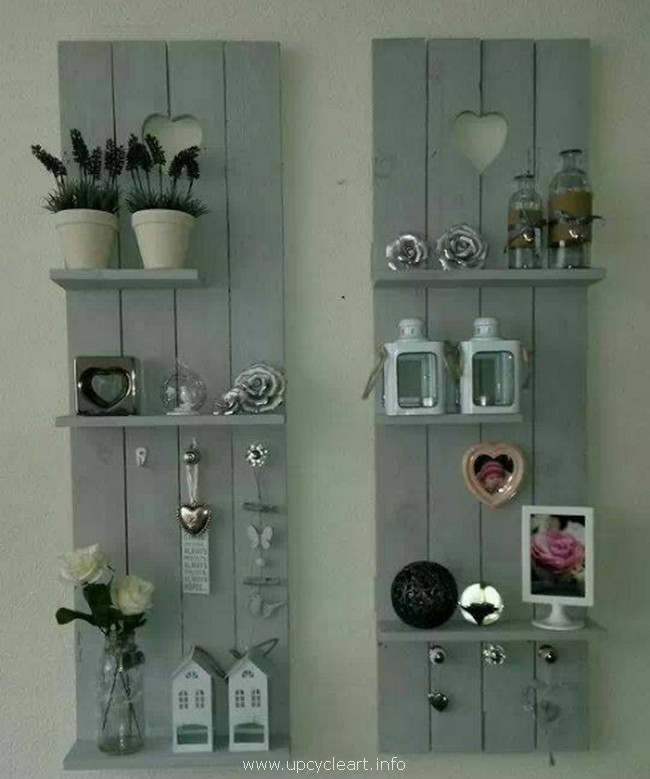 This is again a wood pallet side table that is needed in every well designed and decorated house necessarily. But this time we have made it with a bit complex design that has turned it to be an exceptional wooden pallet creation among the rest.

Hang on, I know you have already made up your mind that atleast you are going to try this stylish pallet wood swing, but before you get started with it make sure that you have got some very solid support for the swing, and the ropes that you are going to use must not be the common ones but heavy duty ropes.

We were just sick of some old conventional wood pallet creations so we always desired to give a whole new dimension to different wood pallet creations like here we have created a wooden pallet book shelf which from none of the angles is one like the typical ones.

Finally let me end with this most common feature of every house. I mean all the houses always need a decent wall rack with studded hooks where we can hang our immediate accessories. Plus we added the shoe rack here too.