Anyone and everyone knows that you're not supposed to throw away scrap wood. But like, what are you supposed to do with it?! THIS PROJECT IS THE ONE YOU'VE BEEN WAITING FOR! These cute DIY wood shelves are easy peasy and throw off a cool modern vibe and if you've got some scrap wood floating around will cost you zero dollars!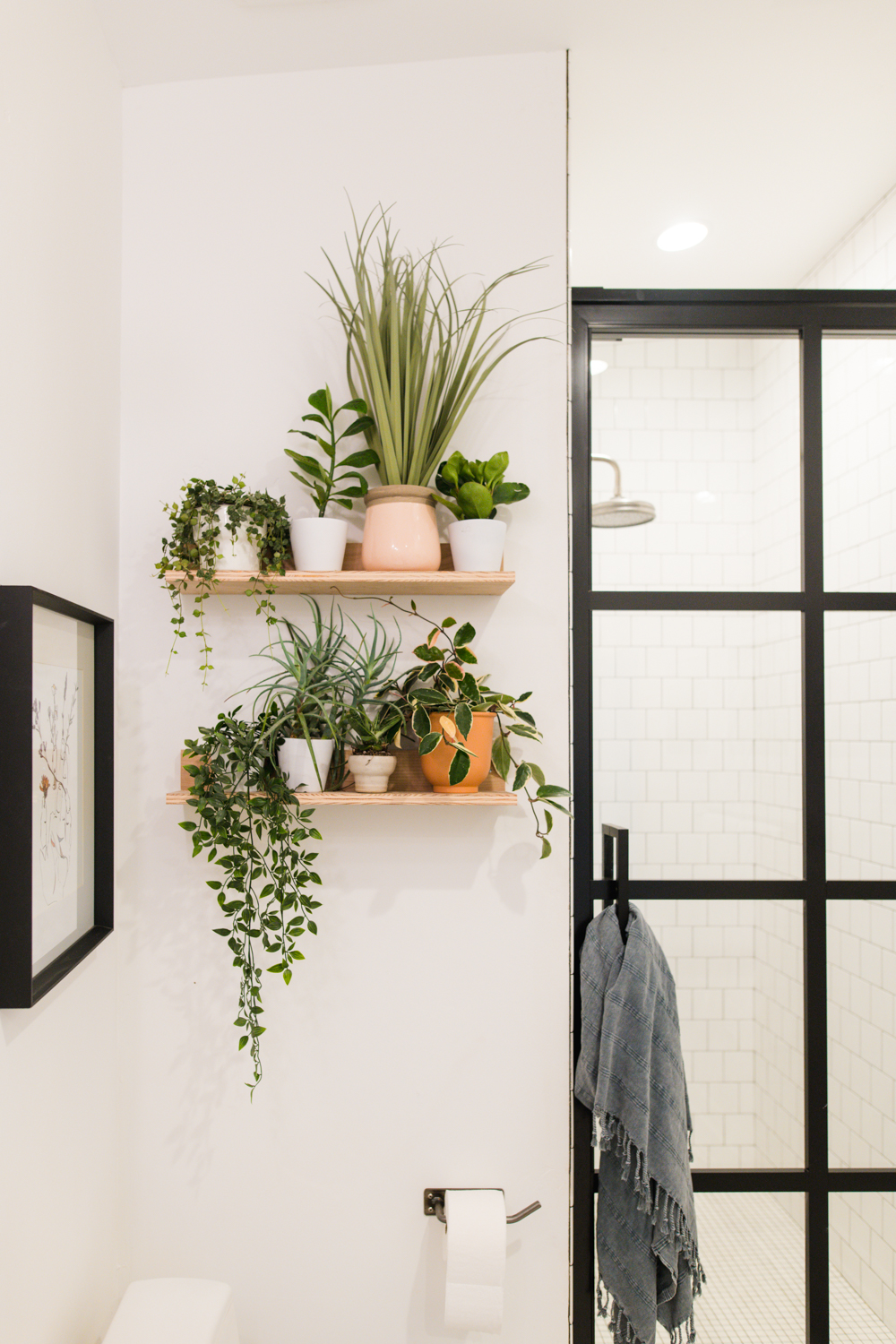 As I was working on Ivie's bathroom, I knew that I needed something on the wall by the toilet. These quick shelves are perfect for small plants or as a picture ledge!
You'll Need:
Scrap Wood
Wood Glue
Clamps
Cabinet Screws
Stainless Steel Screws (and possibly wall anchors)
Building Your Scrap Wood Shelf
Step 1: Start by cutting your boards to size.
My boards measure 3 inches X 24 inches and 6 inches x 24 inches.
Step 2: Glue boards together
Add glue to the bottom edge of the 3 inch board and attach it to the face of the 6 inch board.
Step 3: Clamp and screw
Clamp the boards together and let the glue dry for 24 hours before removing the clamps. While the boards are clamped, attach the wood screws through the underside of the 6 inch board and through the 3 inch board. This will give the shelves extra stability.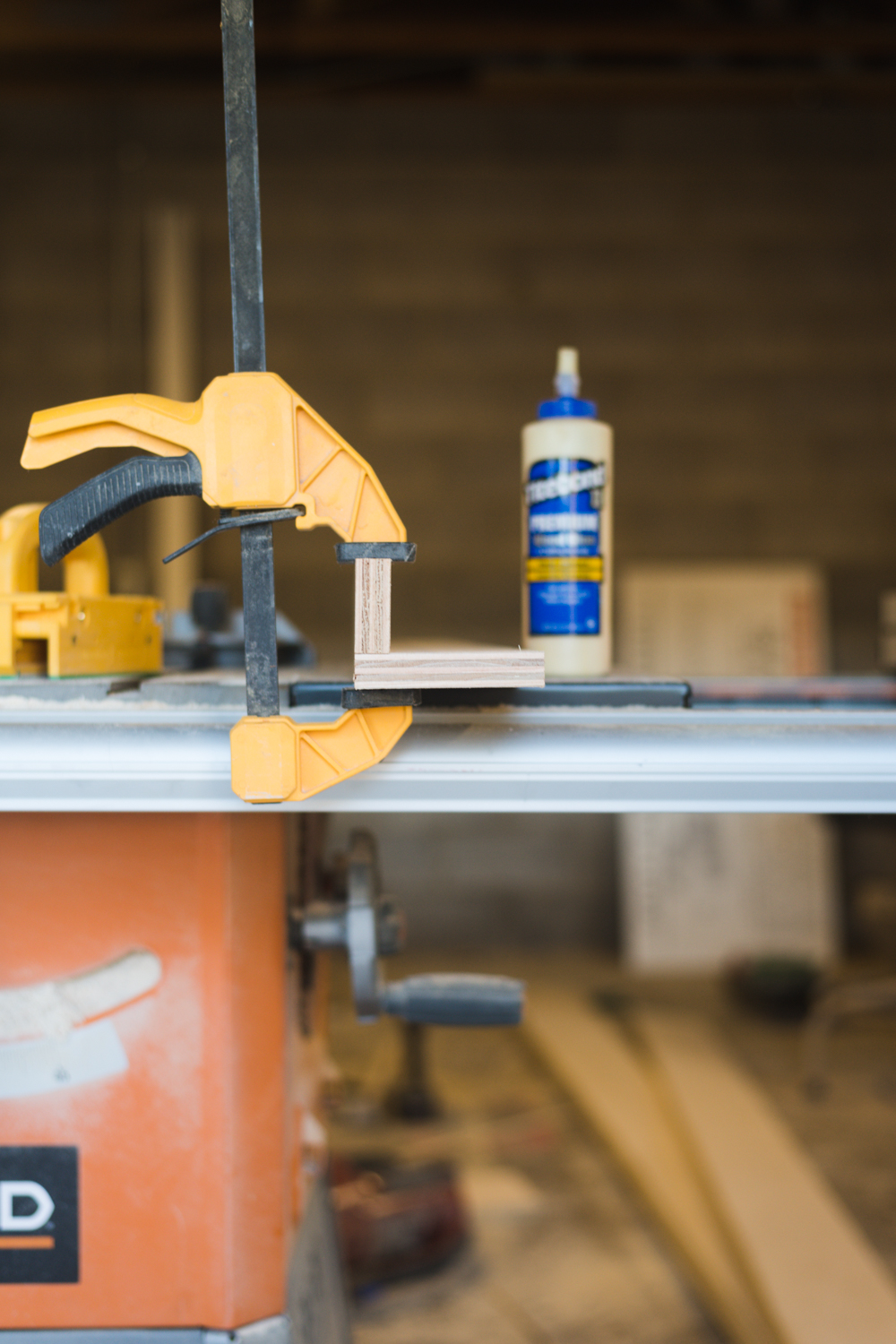 Hanging Your Shelves
Step 1: Find your studs and center your shelf
To attach the shelves to the wall, first find where your studs are. This will help determine the placement of your screws.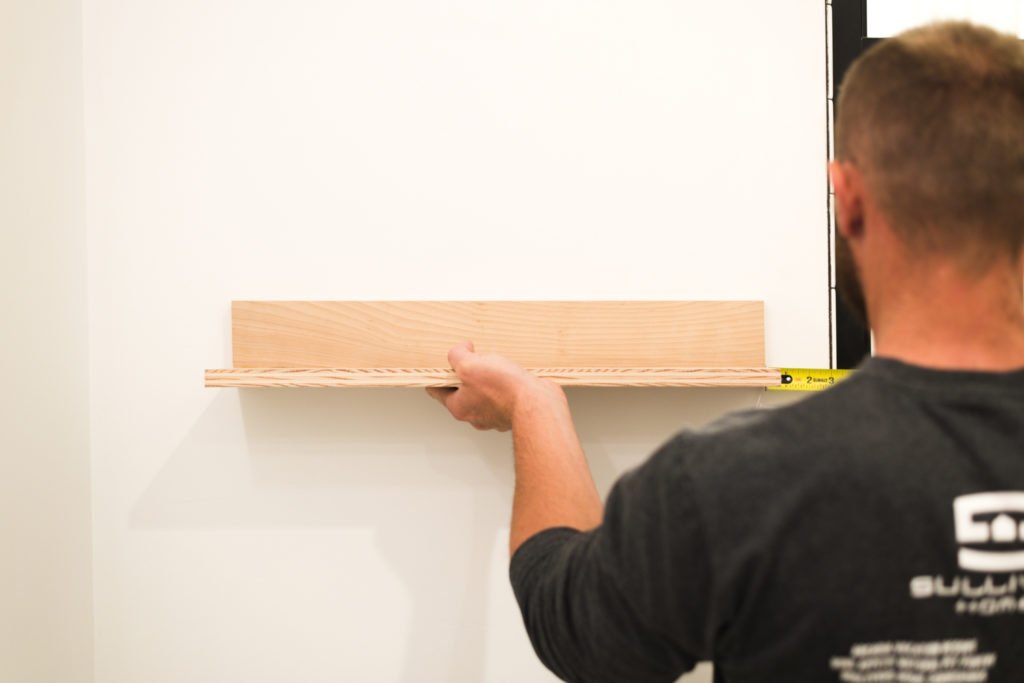 We only hit 1 stud with our shelves, so the second side needed to be mounted with a drywall anchor.
Step 2: Level
This is one important step, dont forget to level your shelf!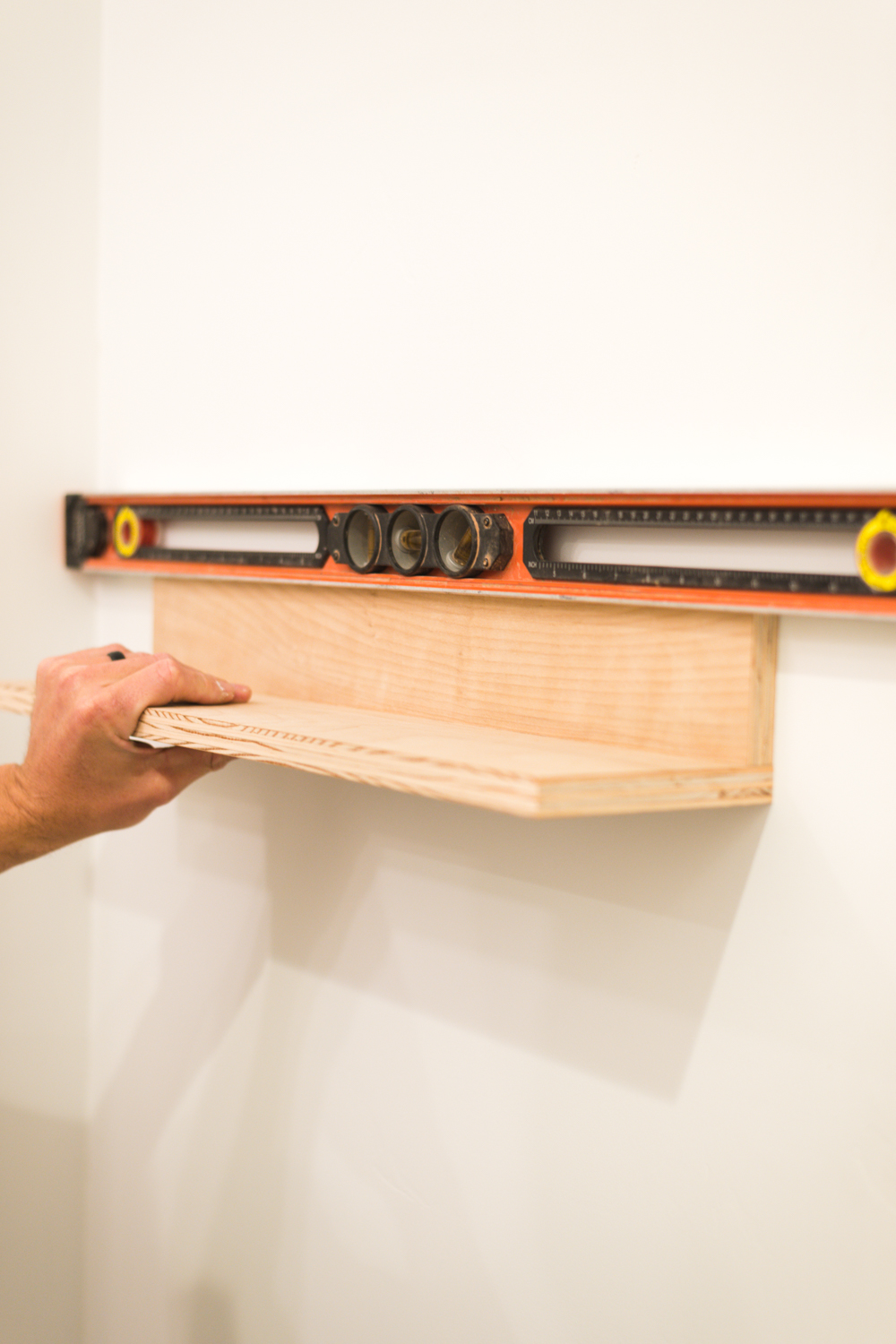 Step 3: Drill your pilot holes
First drill the pilot hole for the stud, then measure the distance between the edge of the shelf and the pilot hole. On the other side of your shelf, measure in the same distance and drill a second pilot hole, making sure that it is going into the wall a little bit.
Remove the shelf and set your anchor.
Step 4: Screw your shelf in place
Place your shelf back on the wall and attach the screws.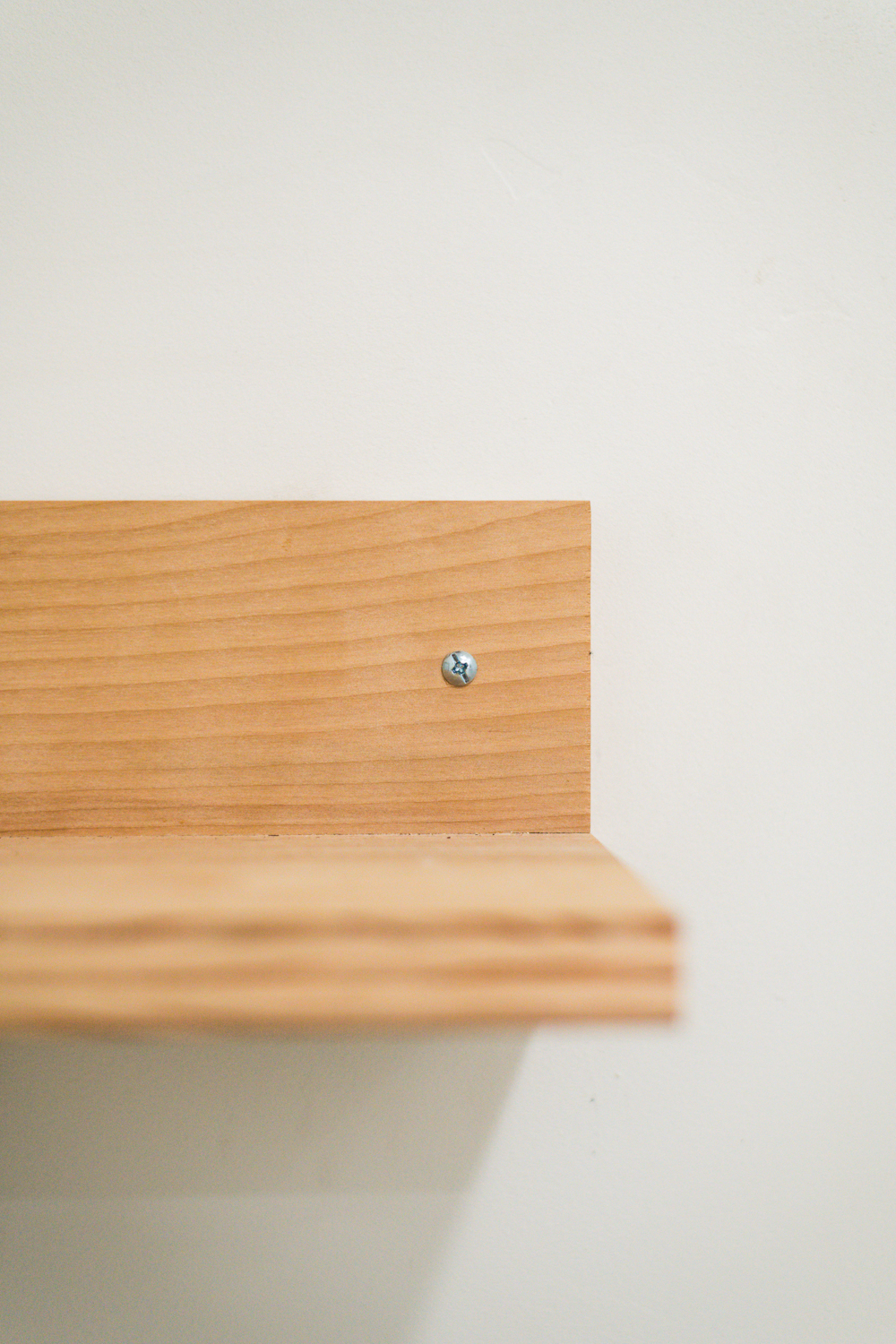 That's it! I love the edge of raw plywood and I love that these quick and easy shelves cost me nothing!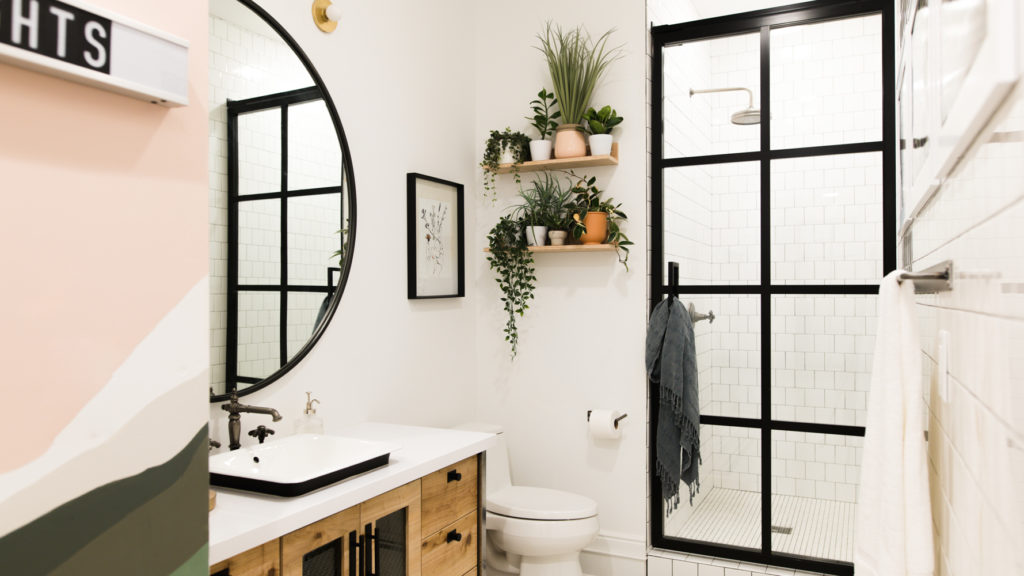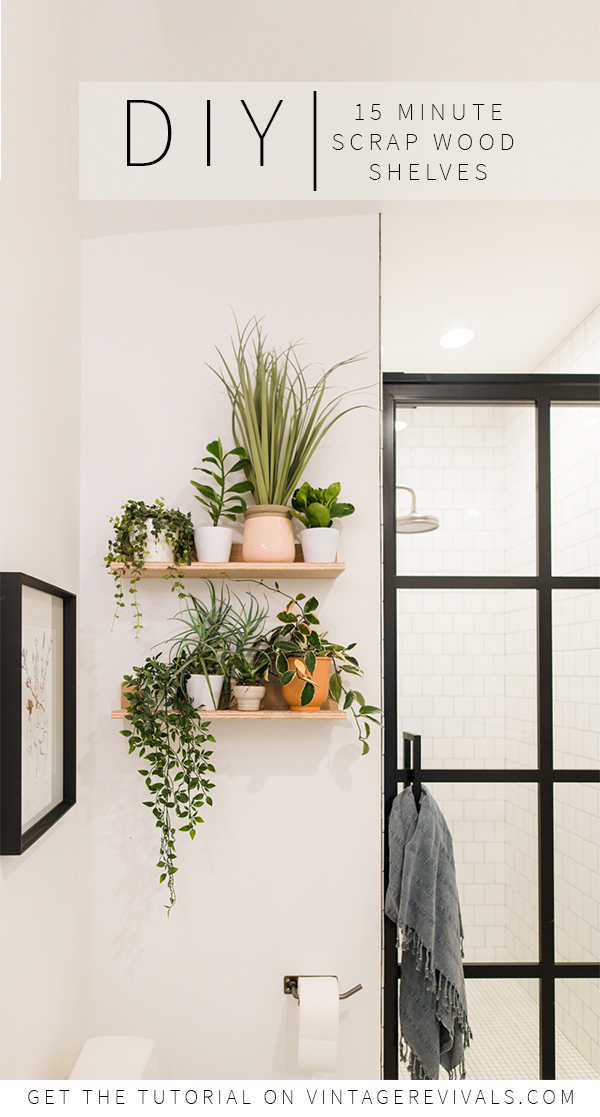 You can use this tutorial and adapt it to any size, though I wouldn't recommend making your shelf wider than 6″. Picture it as a long picture ledge above your couch, or as an easy bedside place to charge your phone! SO CUTE!!
Need some more shelf ideas? I've got you friend!! Some of my most popular shelf tutorials are below!
DIY A-Frame Ladder Shelves
$15 Simple DIY Shelf
Giant Pegboard Shelves
Copper Floating Shelves